This Cosmo and Wanda costume will be the new favorite of couples this coming Halloween.

Cosmo and Wanda are the characters from the animated series Fairly Odd Parents. The couple has been married for more than 9,850 years and has become the godparents of Timmy and Chloe.

Cosmo is the godparent tasked with making children safe and happy, especially the miserable ones.

Cosmo and Wanda have a son, Poof, whom they love dearly as much as they love Timmy. Now, they serve as the godparents of Viv, Timmy's daughter.
---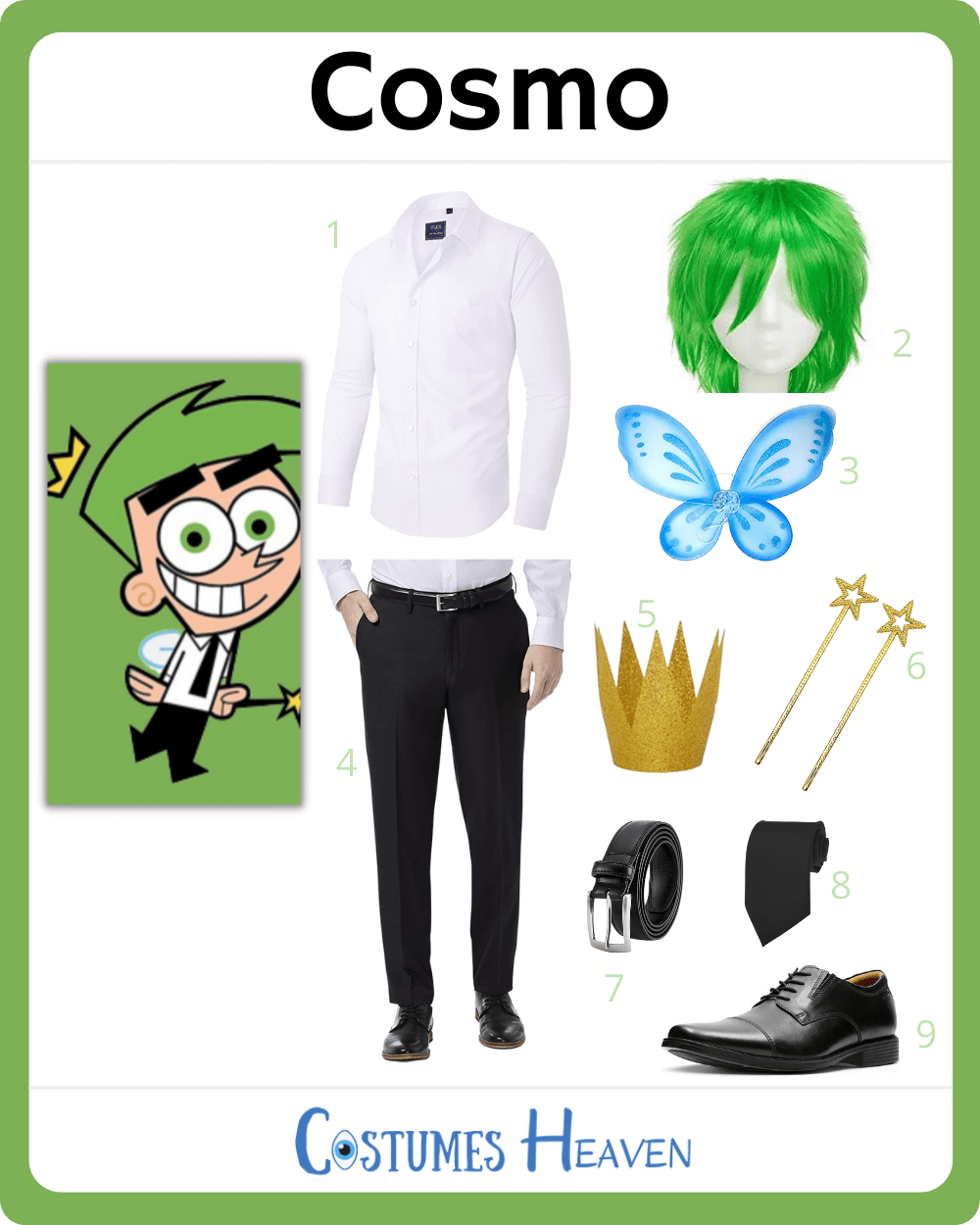 You'll Need:
DIY Cosmo Costume Guide
Unlike other fairy godparents, Cosmo and Wanda wear typical clothing like regular people. What sets them apart from regular people are their hair color and wings.
For Cosmo, you only need a white dress shirt, black tie, black leather belt, and black pants. This is because he previously worked as a waiter. 
But what adds to his fashion statement is his green hair. You can get this by wearing a wig or spray painting your hair.
Don't forget to add a crown cap and a star-shaped wand to complete your look.
---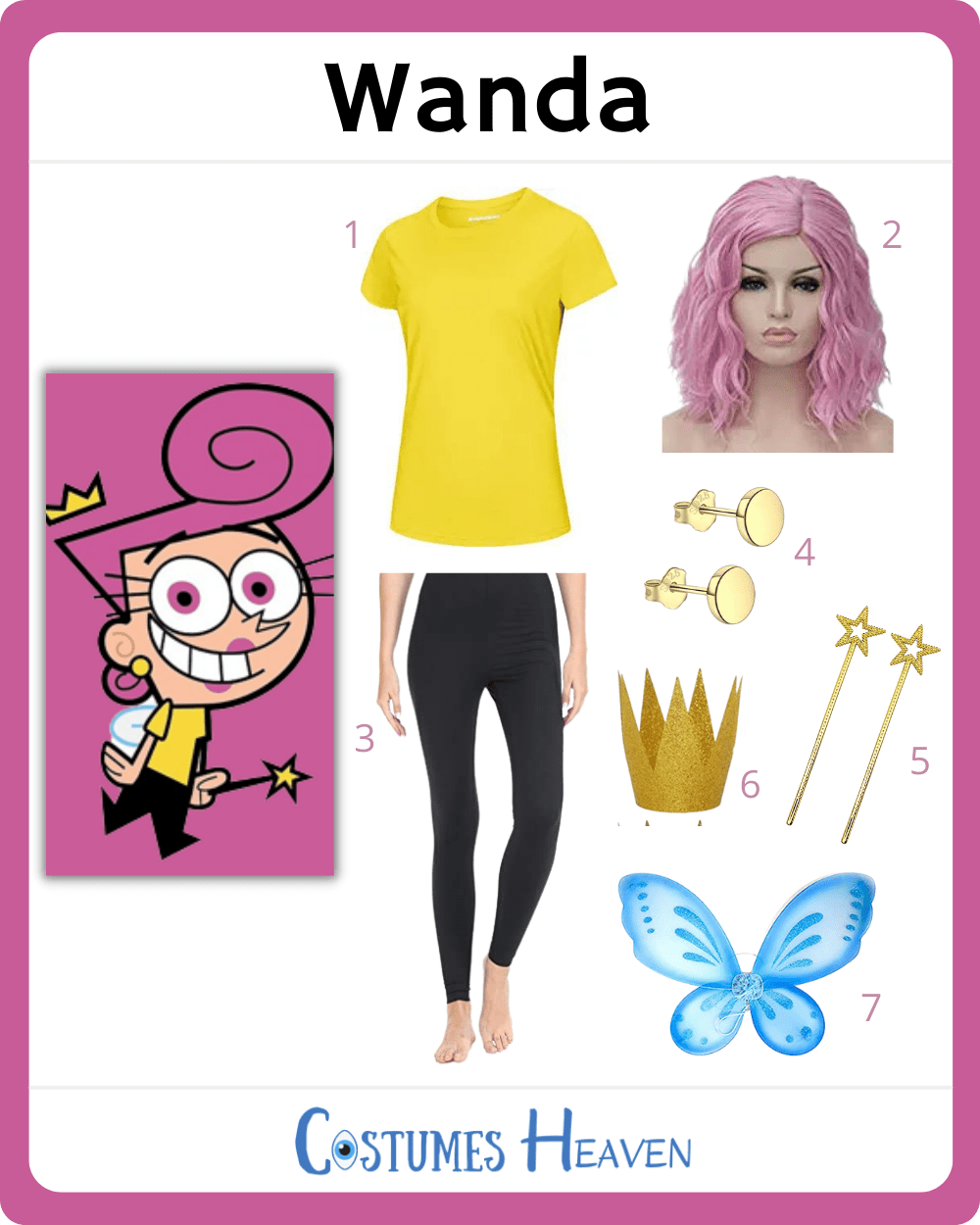 You'll Need:
DIY Wanda Costume Guide
Wanda likes to be comfortable. You only need to wear a plain yellow shirt, black tights, and black sneakers. 
What's special about her costume is her pink hair. Like Cosmo's, you can wear a wig or spray paint to paint your hair pink.
Finally, add a crowned hat, a star-shaped wand, and dot stud earrings to reflect your identity as a fairy.
---
Cosmo and Wanda Cosplay Costume
The costume for both characters does not need any accessories or any pieces that are hard to find. Since they wear clothes like typical people, you will likely have them in your closet.
Cosmo and Wanda's costume is a good option for couples who are attending a costume party together. 
But to be fairy godparents, you and your partner should have a small crown, wand, and wings. Don't forget to get Poof as your son.
---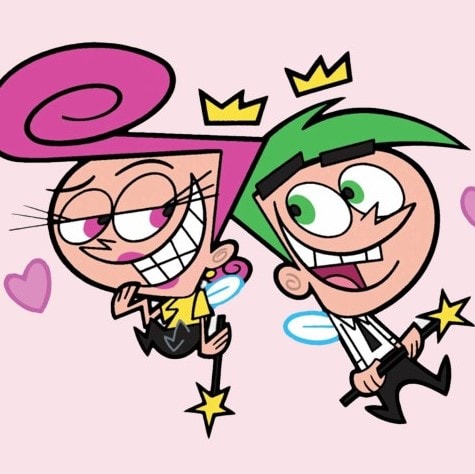 About Cosmo and Wanda From Fairly Odd Parents
Cosmo and Wanda is a good combination of husband and wife. Their characteristics balance each other since they are opposites. 
Though they fight a lot, they continue to love each other because of their differences.
Cosmo has a childish personality, while Wanda has the qualities of a mother.
But because Cosmo lacks intelligence, he often misinterprets Timmy's wishes. He grants them wrong and puts Timmy in Danger.
Wanda is the opposite of Cosmo. She is bright, compassionate, and a genius. Unlike Cosmo, she is responsible and grants even the senseless wishes just to prevent Cosmo from granting them.
They love Timmy and make sure he is happy and always doing what's right for him. They also guide him in life by warning him that not all wishes turn out good or might not work.
---
Cosmo and Wanda Makeup Tutorial | Fairly Odd Parents | Halloween Costume Ideas
---
What is the most famous quote from  Cosmo and Wanda?

1. "Two wrongs don't make a right. But three rights make a left, and now it's time for the show!"

2. "You made your dad cry. Yeah. Usually it takes a monkey or a bowl of pudding to do that."

3. "That's what got me on probation."

4. "Look at our chart. 99.9% Timmy. 0.01% Other."

5. "Awwwww, Goat Love! They say it's the most honest love around."