An Albedo costume is sure to be a groundbreaking hit among gamers who spend their days playing Genshin Impact.
Albedo is one of the most pivotal characters from Mondstadt in the game Genshin Impact. He is a sword-wielding geo character who plays the role of a very capable support unit.
Lorewise, Albedo is a synthetic human being created by the infamous alchemist Rhinedottir from Khaenri'ah. He is currently the Chief Alchemist and Captain of the Investigation Team of the Knights of Favonius.
While he has gained much fame for his alchemical talents, Albedo is more of an introverted and reclusive person who prefers to spend time in places like Dragonspine. Here, he frequently draws as a pastime.
Albedo is not very fond of social interactions and thus rarely spends time in the city. He does show interest and fascination in other people, though, particularly for the Traveller.
---
You'll Need:
DIY Albedo Costume Guide
Albedo instantly became a popular and iconic character thanks to his mysterious nature and classy outfit.
This light and dark-coloured ensemble makes him stand out among other Mondstadt denizens and has become a style beloved by modern Cosplyers. Follow our Albedo costume guide below to mimic his look with ease.
Get started with a full Albedo costume, which will settle the majority of the cosplay. This will include his signature coat, shirt, shorts, gloves, and main accessories.
Next, you will need to purchase a slightly messy blonde wig. This shoulder-length hair piece must have all his gorgeous bangs and the half ponytail in the back.
Get yourself a pair of Albedo Cosplay Boots, which are thigh-length footwear with all the nice detailing. Follow up with a pair of light blue contacts as well, if possible.
Finally, procure Albedo's signature sword, the Cinnabar Spindle, from a cosplay shop. This will complete the look!
---
Albedo Makeup Tutorial | Halloween Costume Ideas
---
Albedo Cosplay Costume
Over time, Albedo has become something of an alchemist icon. His cool manner of dress and iconic coat are easily recognisable, even by people who haven't played Genshin.
This is especially true among people who enjoy classy styles and clothing, as he dresses in a pseudo-professional style.
Embrace the alchemical genius within you and nail this Albedo cosplay! Luckily, it is a fairly straightforward ensemble made from a few core pieces that can be put together in no time.
Why not do a Genshin Impact Group cosplay this Halloween to enhance the fun? Grab your friends and get them to dress up as Sucrose, Klee, Rosaria, and Traveller to go to any party with you!
---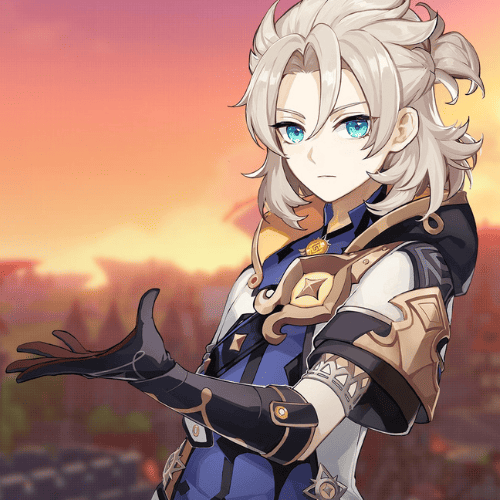 About Albedo from Genshin Impact
We often see Albedo during events involving some sort of social setting, helping people in whatever way he can. He does find relationships stressful and tiresome because of the effort needed to maintain them, though.
He is Klee's older brother figure, often seen babysitting her. That said, he is fueled by the feeling of enlightenment and is constantly researching things that pique his interest, but he loses all interest once he has the answers.
While the people of Mondstadt don't know anything about his personal life, and he is particularly secretive about it, he is quite open with the Traveller. He also knows how dangerous he is due to his knowledge of the Art of Khemia.
---
What is the most famous quote from Albedo?

1. "What a view… How about a quick break so I can sketch this beautiful scenery?"

2. "The truth of this world"… *sigh* What could it be?"

3. " Going out into the world and investigating, turning the "unknown" into the "known." …Ahhh, I missed this feeling."

4. "The soil is moist, ideal for collecting the roots of Boom Blossoms. No please, allow me to handle this."

5. " *sigh* It's gotten quiet outside…"