A Kaeya costume is sure to be an icy hit among gamer cosplayers who enjoy playing Genshin Impact.
Kaeya is one of the first few characters we meet in the game, Genshin Impact. We receive him as a F2P cryo unit and sword user when starting off on our journey across Teyvat.
He is the cool cavalry captain of the Knights of Favonius in the region of Mondstadt and is held in high regard. The people really seem to love him, despite his many eccentricities and secrets.
Kaeya is an outwardly confident and charming individual, often seen flaunting a flair for drama. He can also seem overly laid-back and lazy at times, but he takes his work very seriously.
His charisma and determination have earned him much admiration, respect, and favor from many, but his love of provoking others has also earned him some exasperation from certain people.
---
You'll Need:
DIY Kaeya Costume Guide
Kaeya instantly became an extremely popular and iconic character in GI thanks to his shady background and sexy outfit.
This dark-coloured and classy ensemble makes him stand out among the other Knights and has become a style beloved by cosplayers everywhere. Follow our Kaeya costume guide below to nail his look with ease.
Get started with a full Kaeya costume, which will settle the bulk of this cosplay. This will include his signature coat, shirt, pants, gloves, and main
Follow up with a dark blue long ponytail wig and cap for his gorgeous hair. You can allow it to be a bit spiky and messy, but do not forget the light blue hair streak up front!
Next, you must procure a comfy pair of brown knee-high boots, to which you can easily add the detailing with some basic materials at home. Also, get yourself a single blue hook earring to go on the left ear!
Finally, you need a black Halloween eye patch to cover your right eye!
---
Kaeya Makeup Tutorial | Halloween Costume Ideas
---
Kaeya Cosplay Costume
Over time, Kaeya has become something of a Husbando icon. His badass manner of dress and unique array of accessories are easily recognisable, even by people who have never played Genshin.
This is especially true among cosplayers who enjoy the old German style of clothing, as he dresses in a knightly style.
Embrace the ice-cold knight within you and nail this Kaeya cosplay! Fortunately, it is a fairly easy ensemble made from a few core pieces that can be pieced together in record time.
Why not attempt a Genshin Impact Group cosplay this Halloween to enhance the fun? Get your friends to dress up as Amber, Jean, and Lisa to crash any party with you!
---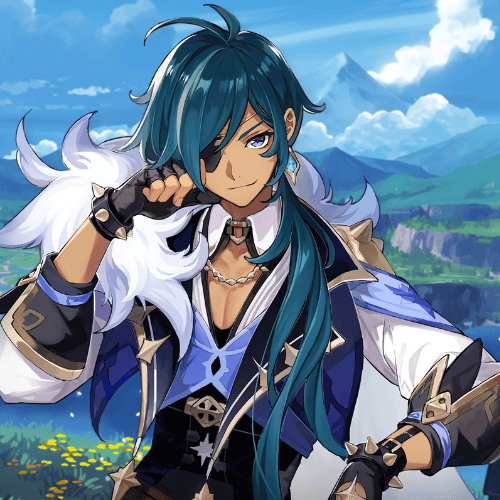 About Kaeya from Genshin Impact
Kaeya is super popular among the elderly of Mondstadt, dubbed the "top candidate for grandson-in-law" in the city. Unfortunately, he enjoys putting people into high-stress situations and thereby challenging their values, friend or foe alike.
He is also well known for telling bold-faced lies and manipulating others into doing his work. This self-proclaimed "anti-hero with an attitude problem" is even willing to get his hands dirty to get things done.
While Kaeya appears highly extroverted, he struggles with loneliness inside. He is a charmer who is great with words, drawing the attention of many women to him, but he seems to enjoy the Traveller's company the most.
---
What is the most famous quote from Kaeya?

1. "I didn't know you were such a slacker."

2. "Hehe, seems all the other knights already have their hands full."

3. " Come on, let's get moving. We're not frozen in place, after all."

4. "Cryo is always far more effective in the rain. This is going to get interesting…"

5. "How about a ghost story to go with the snow?"