If you're a fan of Nickelodeon shows, you probably know Trixie Tang from The Fairly Odd Parents.
She is one of the richest girls in Dimmsdale Elementary School, which makes her the most popular, and she acts as the leader of the rich kids in school.
Because of this, she is known to be mean, and she treats Timmy Turner coldly. However, she manages to be good to Timmy if her friends are not around.
---
You'll Need:
DIY Trixie Tang Costume Guide
There are no other versions of the Trixie Tang costume. She always wears the same thing every day, but she still manages to keep her style a head-turner.
If you like to imitate her looks at your costume party, you don't need to worry about the clothes that much.
What she wears is very simple. Just wear a turtleneck top, a white skirt, white boots, a straight black wig, and a headband.
---
Trixie Tang Cosplay Costume
Getting the Trixie Tang costume is simple. Most of the costume pieces can be available in your closet.
Her long black hair is just simply worn down, and she uses a lavender headband as an accent.
Trixie Tang wears a single-color pallet only. For her top, wear a lavender short-sleeved turtleneck with the same shade as your headband.
Just partner it with a white mini-skirt and white boots to complete her outfit. Add some more lavender shade to your costume by using a lavender eye shadow.
Usually, people who wear the Trixie Tang costume come to cosplays with their partners who are dressed as Timmy since Timmy has a huge crush on Trixie.
---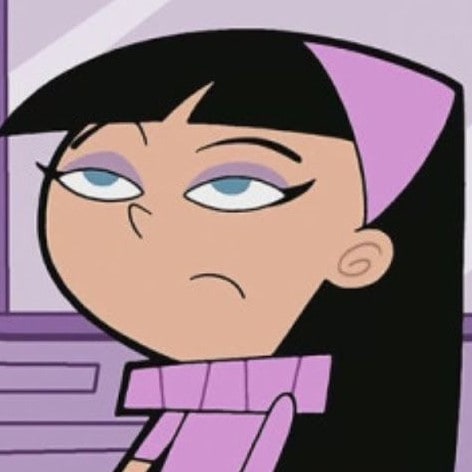 About Trixie Tang
Trixie Tang's character in Fairly Odd Parents is voiced by Dionne Quan. Trixie Tang always likes to look neat and gorgeous; she always does a quick fix, so she can continuously flaunt her looks.
There are scenes in that Trixie might have liked Timmy back. She tried to impress him a couple of times, but not in front of her friends. However, they shared their first kiss in the "Wishology!" episode. Both try to kiss each other again in other episodes, but they are always interrupted by another character.
It is said that Veronica is her best friend, but her actions do not show this at all. Most of the time, she does not care about Veronica. Trixie also became friends with Timantha, Timmy's female character, when he unintentionally wished to be a girl. This is the reason why he saw Trixie's interest in boyish activities.
---
Trixie Tang Costume Makeup Tutorial | Halloween Costume Ideas
---
What is the most famous quote from Trixie Tang?

1. "Hello, empty bus seat."

2. "Tell me I'm pretty!"

3. "He's so unfeeling! That makes him cool!"

4. "SECURITY!"

5. "Get away from me! You're a monster! A totally hot MONSTER!"