Are you ready to try out Tanjiro cosplay and kill fearsome demons and defend humanity? This is the plot of the hit Japanese anime series, Demon Slayer: Kimetsu no Yaba. After his entire family was brutally murdered by a demon, the demon turned his little sister, Nezuko, into a demon. Tanjiro Kamado made the decision to join the Demon Slayer Corps to avenge his family. He wants to turn his sister back into a human and to prevent others from succumbing to the same terrible fate as them. He specifically wants to hunt down and slay Muzan Kibutsuji, the very demon that killed his family.
---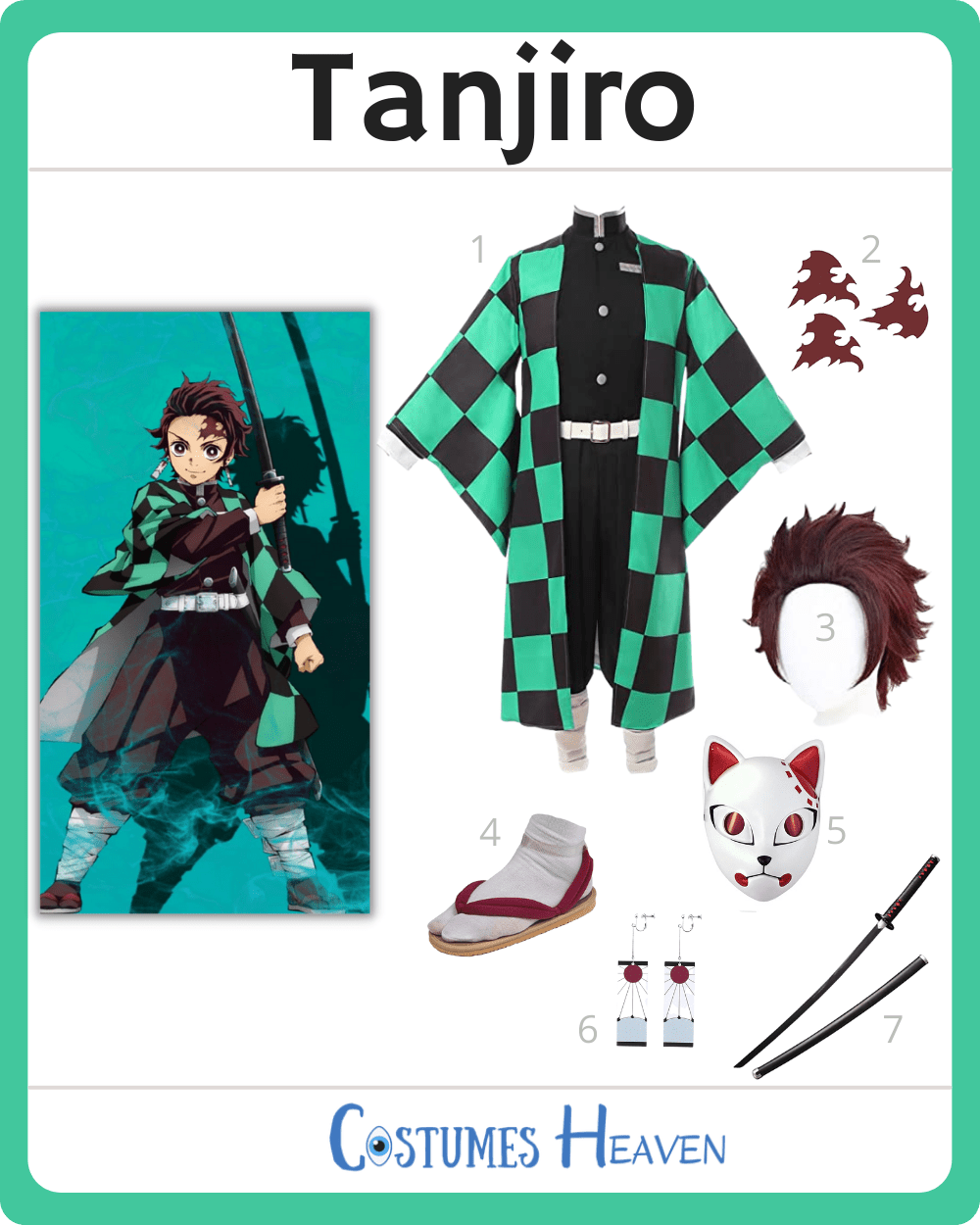 You'll Need:
DIY Tanjiro Cosplay Guide
If you want to get the look of the loyal, protective Tanjiro for your next costume event, start off with his costume that comes in the Tanjiro cosplay set. This costume includes a green and black checkered robe, a black turtleneck button-down shirt with white accents, a white belt, and black wide-legged pants. If you want to achieve his hair, use a tousled brown wig. To accessorize Tanjiro's look, grab his signature sunset earrings, his cat face mask, temporary tattoos to emulate his facial scars, a katana-style sword, and clog shoes.
---
Tanjiro Cosplay Costume
If you want to take Tanjiro's look to the next level, you can imitate his samurai look. You can wrap your ankles in gauze and add brown socks with clog shoes. You also can upgrade your look even more by drawing your eyebrows upwards and by getting some anime-style circle contact lenses to make your eyes look bigger. However, the most important aspect of this cosplay is to adopt Tanjiro's stoic, determined, protective attitude!
To keep up with the Demon Slayer theme for your next costume event, have your friends dress up as his sister Nezuko as well as his fellow demon slayers, Genya Shinazugaya, Rengoku, Shinobu, Mitsuri Kanroji, and Inosuke Hayashibara.
---
About Tanjiro Kamada From Demon Slayer
Tanjiro Kamado is a character from the anime series, Demon Slayer: Kimetsu no Yaba. Based on a manga series by Koyoharu Gotogue of the same name. The story follows the life of a teenage boy named Tanjiro Kamado. He trains to become a skilled demon slayer after his family was brutally murdered by a demon and his sister was turned into a demon. He fights off fearsome demons alongside his little sister Nezuko. Although she was placed under hypnosis and still a demon, she cause no harm to humans. She aids Tanjiro in battle occasionally, as well as two fellow Corps members, Genya Shiazugaya and Inosuke Hayashibara.
Tanjiro is kind, gentle, and mild by nature. In the show, he goes to great lengths to defend his loved ones–even if that means resorting to violence. Underneath his soft exterior is a burning vengeance and rage! When he has a goal, he is extremely determined, driven, and does not give up. Whether that be during his mission to turn his sister back into a human or during his grueling training to become a demon slayer.
---
Tanjiro Kamado Cosplay
---
What is the most famous quote from Tanjiro?
1. "Don't Insult My Family!"
2. "You're The One Who Lost!"
3. "I Feel Like I'm Falling Behind!"
4. "I'll Never Forgive You No Matter What!"
5. "The Strong Should Aid And Protect The Weak…"
We are sorry that this post was not useful for you!
Let us improve this post!
Tell us how we can improve this post?