This Xinyan cosplay is modeled after the character from the video game Genshin Impact. She is a popular Pyro character that players can take on the role of.
Xinyan makes herself stand out due to her love of rock 'n' roll. It is a style of music that is rather unpopular in her home of Liyue, as it has recently made its way over from Fontaine.
Even so, Xinyan loves it and is slowly getting others to come around. She is a rocker girl herself and can often be seen performing around Liyue Harbour.
If you love the fierce nature of Xinyan, you can show your appreciation of the character with a Xinyan cosplay. Keep reading to learn how to piece together your own.
---
You'll Need:
DIY Xinyan Cosplay Guide
Xinyan has a memorable look, complete with a detailed dress that could be tricky and time-consuming to create yourself. Avoid the hassle by choosing a ready-made Xinyan cosplay to get you started.
Perhaps her most important and well-known accessory, the guitar weapon, is a crucial aspect of this cosplay. You can get a replica of it to make sure you look the part.
Xinyan has short hair that she wears in puffball pigtails, complete with side-swept bangs. Get a wig that is made to look like her hair for the most accurate representation of the character.
Finish off the main ensemble with a pair of her one-of-a kind open-toed black boots, complete with spikes along the top. Match her boots with a spike bracelet and her spikey drum headwear.
---
Xinyan Makeup Tutorial | Halloween Costume Ideas
---
Xinyan Cosplay Costume
Due to Xinyan's fiery personality and abilities, the clothing that she wears reflects the color of flames. It is a fun choice for anyone who likes wearing bold hues and standing out.
If you love the same kind of music as Xinyan, cosplaying her is a unique way to express that side of her personality, especially because she carries a modified guitar that she uses as a weapon.
Turn your Xinyan cosplay into something truly special by incorporating it into a group costume. With so many other Genshin Impact characters to choose from, friend groups of any size can cosplay the game together.
---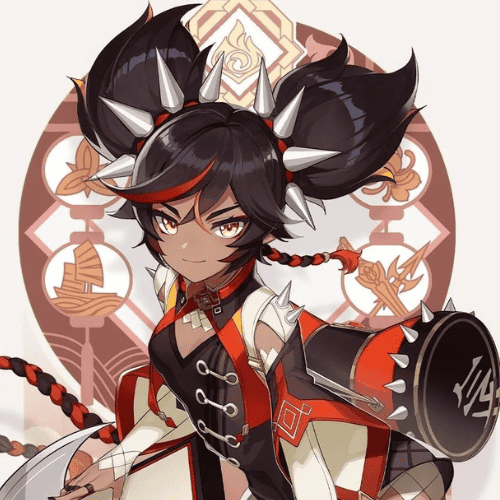 About Xinyan
Xinyan is one of the playable Pyro characters in Genshin Impact. She is popular with players because of her personality and looks.
Xinyan's love of rock music sets her apart from most of the other inhabitants of Liyue. This music has a hard time catching on in Liyue because it comes from Fontaine.
Xinyan, however, marches to the beat of her own drum and listens to it openly. She has become a performer of the music herself, which in turn has given her a small following of her own.
In the article above, we offer a guide to making your own Xinyan costume. By following the steps outlined, you can have your Xinyan cosplay ready for your next gaming convention or Halloween party.
---
What is the most famous quote from Xinyan?

1. "I just came up with an awesome new riff, wanna hear it?"

2. "Whatever's going on over there… Looks pretty rock 'n' roll to me!"

3. "Mornin'! I was just warming my voice up. We're in real good shape today."

4. "Almost about to go live over here. You comin'?"

5. "Hmm… You don't mind if I add a little something to spice things up, do ya?"