The Kamisato Ayaka cosplay is taken right from the popular video game, Genshin Impact. She is a playable Cryo character in the game.
Kamisato Ayaka is well known within the Kamisoto Clan. She works as the director of external and internal affairs for the group. Kamisato Ayaka is also the younger sibling of Kamisoto Ayato.
Kamisato Ayaka has a reputation for being noble and dignified, and she has often been called beautiful by those who have met her. This graceful woman is thought by Inazuma to be the "model of perfection." She has even achieved the title of Shirasagi Himegimi.
This character is a favorite among players of Genshin Impact and is a popular cosplay choice. In the article below, we'll show you how to make your own Kamisato Ayaka cosplay.
---
You'll Need:
DIY Kamisato Ayaka Cosplay Guide
The highly detailed nature of Kamisato Ayaka's attire means you're better off purchasing a pre-made costume of hers. This will take care of the finer intricacies of the cosplay and allow you to focus on your accessories.
These accessories begin with getting a wig to match her hair, which she wears in loose pigtails and a ponytail. Kamisato Ayaka carries with her a hand fan that has gold and blue floral details, which is important to have with you for the cosplay.
On her feet, she wears a pair of black sandals complete with pink tassels and a white bow. Like every other character in the game, Kamisato Ayaka fights with a unique weapon,  a purple sword.
Be sure to get a prop sword that is made to be a replica of Kamisato Ayaka's sword.
---
Kamisato Ayaka Makeup Tutorial | Halloween Costume Ideas
---
Kamisato Ayaka Cosplay Costume
Much like many of the other cryo-type characters in Genshin Impact, Kamisato Ayaka wears attire that has a blue color scheme. Anyone who shares this as their favorite color is sure to love the look.
Since it consists of a dress with a short hem, it's also a good choice for wearing to conventions that take place during the hotter days of spring and summer.
One way to make this outfit stand out is to incorporate it into your group's outfit. There are many other Genshin Impact characters that your party could dress up as.
---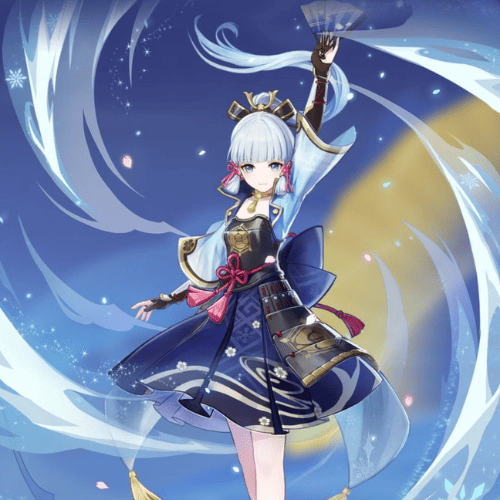 About Kamisato Ayaka
Kamisato Ayaka is a popular Cryo character from the popular video game Genshin Impact. She is known for being graceful, beautiful, and dignified, earning the respect of all she meets.
Kamisato Ayaka takes on the role of director of both internal and external affairs for the Kamisoto Clan. She also holds the title of Shirasagi Himegimi.
Kamisato Ayaka is thought to be the idea of perfection in the eyes of Inazuma and is also the younger sister of Kamisato Ayato.
Above, we have outlined the steps you'll need to take to create your own Kamisato Ayaka cosplay. By following this guide, you'll have a Kamisato Ayaka cosplay ready in no time.
---
What is the most famous quote from Kamisato Ayaka?

1. " I only wish life could be as leisurely as this a little more often… How greedy of me."

2. "Her Excellency… What is she trying to communicate?"

3. "There's a pleasant breeze and glorious sunshine… So, where shall we go for a walk?"

4. "Thank you for your guidance. With your assistance, I am gaining a more thorough understanding of my capabilities."

5. "A blade is like a tea-leaf. Only those who sample it many times can appreciate its true qualities."