A Shenhe cosplay is a great way to show your love for the Genshin Impact character. Shenhe is one of the playable characters in the popular video game.
This character is the daughter of a pair of exorcists who are never named. She is taken in by Cloud Retainer, who raises her as a disciple. This occurs after Shenhe's father subjects her to a rather traumatic experience when she was a child.
Shenhe fights using a polearm and is known for her cryovision. She is a popular character for players of Genshin Impact.
---
You'll Need:
 DIY Shenhe Costume Cosplay
The Shenhe costume is highly detailed and unique. For this reason, it is recommended that you choose a full-body, ready-made costume for the base of the outfit. This way, you won't need to devote hours to perfecting the costume by hand.
Once you have the base of the costume, you can start accessorizing it to make it look more accurate to the character's appearance in the game. Perhaps her most important accessory is the polearm that she fights with, so be sure you have that included in your cosplay.
You will also need to get a wig that matches her hair. Choose a long silver wig that you can put into a braid, or purchase a wig that already comes styled that way.
Finally, you will need to get a pair of her shoes. Shenhe's shoes are as intricate and unique as her costume itself, so getting a pair of ready-made shoes is the best way to go. Otherwise, you can personalize a pair of chunky white sandal heels to look like her shoes instead.
---
Shenhe Makeup Tutorial | Halloween Costume Ideas
---
Shenhe Cosplay Costume
The Shenhe cosplay is a flattering and unique costume that is perfect for lovers of Genshin Impact. It allows female players to cosplay in the game thanks to her highly feminine look.
The costume stands out not only with the look of the apparel itself but with her many accessories as well. One of the most eye-catching of these accessories is her spear, which will make it abundantly clear who you are cosplaying as.
Shenhe wears skin tight clothing, so it's a fun choice for anyone who likes to show off a little. The costume can be further enhanced by having friends dress up as other characters from the video game.
---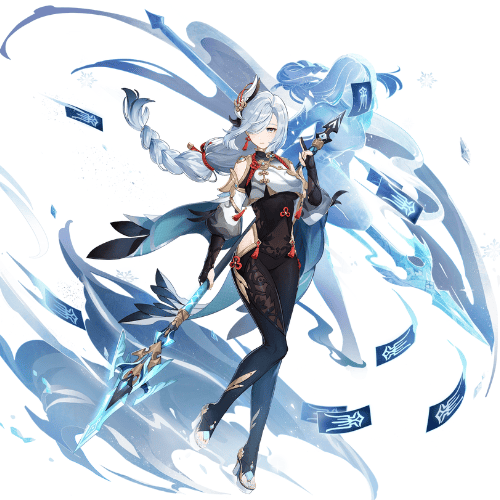 About Shenhe
Shenhe is one of the many playable characters in the video game Genshin Impact. Her fighting style includes both a polearm and her cryovision.
Shenhe is the daughter of a couple of exorcists. Following a traumatic event in her childhood, Shenhe is taken in by Cloud Retainer.
Shenhe is also a beloved character among those who play Genshin Impact. 
In the article above, we've shown you what you'll need to make your very own Shenhe cosplay. Follow these steps to get your costume ready for your next Halloween party, video game convention, or other cosplay event.
---
What is the most famous quote from Shenhe?

1. "Mind be purged, world be saved."

2. "If you feel fatigued after lunch, you should try meditating. It's very effective."

3. "Feel free to rest. I'm a light sleeper, if I hear anything in the vicinity, I'll investigate it for you."

4. "The food you cook is indisputably delicious. I can't refuse it."

5. "No matter. I'm used to this kind of flavor, after all."