Princess Star Butterfly from Disney's Star vs. the Forces of Evil animated series is here to save the day! There's no doubt cosplaying her will summon forth some magic.
Star is full of energy and friendly vibes. She is the optimist of the show who seeks to brighten everyone's day.
Her cute, colorful, and magical look will turn everyone's head as you waltz past them, as she won hearts everywhere thanks to her colorful getup and energetic personality.
---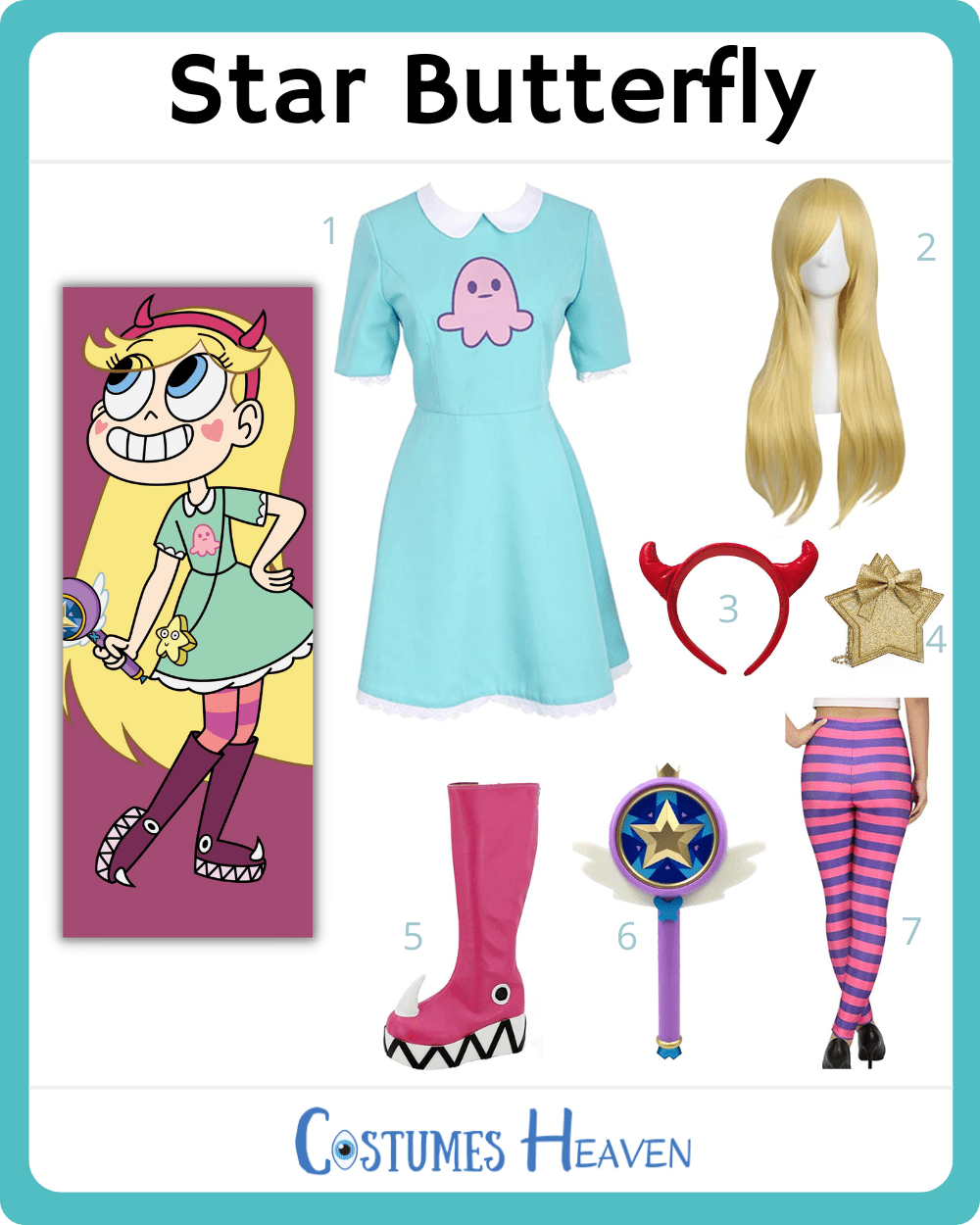 You'll Need:
DIY Star Butterfly Cosplay Guide
The warm colors and sharp spikes adorning Star make her the most fun character to portray in the cartoon. It is high time you join in!
Start off with the Star Butterfly Dress paired the dress with Striped Leggings and Star Butterfly High Boots.
Then, Blonde Wig and Star's Headband are a must to nail the look. Accessories yourself with Yellow Star Side Purse and Star's Wand.
Finally, you can use light pink blush to draw the hearts below your eyes.
---
Star Butterfly Cosplay Costume
Star is full of optimism and has a go-lucky attitude, which is well reflected in her flowery outfit. If you enjoy embracing the colorful princess look, look no further!
In Star's eyes, strangers are merely friends she hasn't met yet. An overly optimistic outlook, yes, but her entire getup reflects that.
While she always resorted to magic to fix things at first,  she soon grows up and learns to take things more seriously. This subtle character development is well portrayed in her outfit changes as well.
Here's an idea: You and your friends can do a group cosplay from Star vs. the Forces of Evil for the next big event happening near you. With Marco Diaz, Pony Head, and co beside you, the forces of evil will have no chance!
---
About Star Butterfly from Star vs. the Forces of Evil
Star Butterfly is the titular protagonist of the Star vs. the Forces of Evil animated series.
She loves fun activities, helping people and fighting monsters, and doing all sorts of wild things.
She is also very keen on helping others, doing her best to cheer them up whenever she sees someone upset. But this doesn't stop her from doing things her own way, being quick to ignore rules or advice.
She can be stubborn, reckless, and even jealous at times, but she works hard to make people smile and achieve her goals.
Star's journey is that of a magical girl who grows stronger and more mature through experiences. She is a great reminder to us all why we should always try to face our problems and grow.
---
Star Butterfly Makeup Tutorial | Halloween Costume Ideas
---
What is the most famous quote from Star Butterfly?

1. "Love is like something new."

2. "Ludo! How did you know I was here?"

3. "Oops, heh! I thought you wanted a little… "danger"."

4. "Wait, you're gonna fight with that?"

5. "Triangle Food!"