A Slash costume is sure to be a huge hit among fans of classic rock. Born under the name Saul Hudson, Slash is the lead guitarist of the classic rock group Guns N' Roses.

Saul got the nickname Slash when he was a child, given to him by the actor Seymour Cassel. It was earned because Slash was always in a hurry and running around from place to place.

He was 14 years old when he took an interest in music that quickly developed into a passion.

It was an Aerosmith album that jumpstarted his desire to play music himself, which eventually put him on the path to Guns N' Roses.
---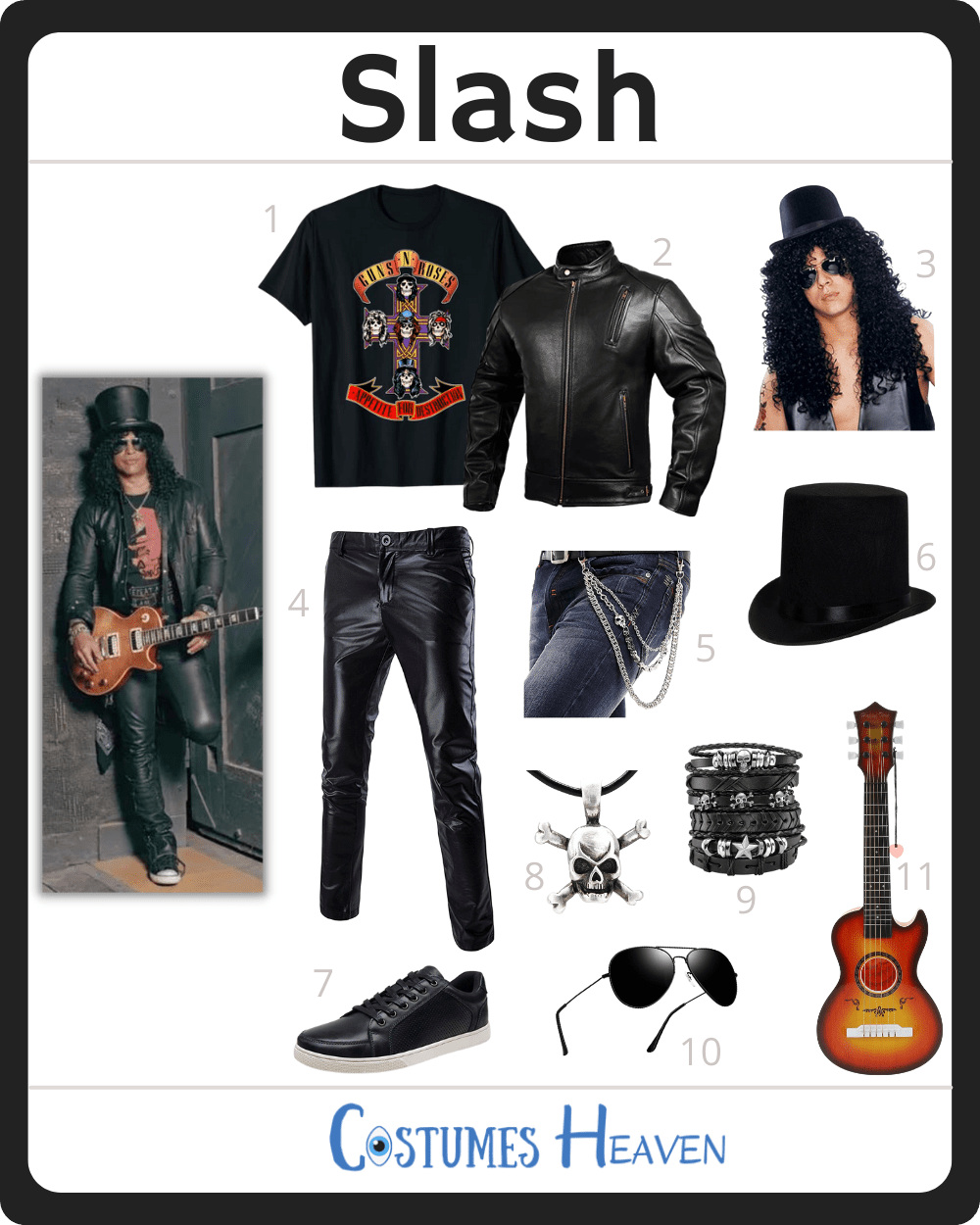 You'll Need:
DIY Slash Costume Guide
Slash was an original band member who left in 1993. It was only temporary, and after a successful solo career, he rejoined the group in the year 2016. 
Slash is known not only for his incredible skill playing the guitar but for his songwriting as well. 
If you're a huge fan of Slash, you can pay homage to him with a Slash cosplay. 
Start off the Curly Rocker Wig with a Top Hat to get the iconic look. Then, put on Guns N' T-Shirt underneath Leather Jacket.
For the bottom, you will need Metallic Black Pants with Black Sneakers. 
As for accessories, you will need Skull Punk Chain, Skull Necklace, Rock Leather Wristband, and Aviation Sunglasses.
Don't forget to bring the all-important Guitar Prop now that you're ready to become a punk rock star.
---
Slash Cosplay Costume
Today, Slash remains one of the most iconic guitarists in the world, with an appearance that is hard to miss. 
Get started on your costume by wearing a black graphic tee, as this is something Slash commonly wears. A Guns N' Roses tee would be a great choice here. 
He is almost always seen wearing his black leather jacket and a pair of black leather pants, so grab those next. On his feet, he wears a pair of black sneakers. 
One of the most defining features of Slash's appearance is his top hat. He wears this large hat on his head of long, curly hair, so you'll need a wig to pull off the look.  
Slash was often seen with a cigarette hanging out of his mouth, so some fake cigarettes will add a nice touch. Finally, his outfit is not complete without the guitar he always holds.
---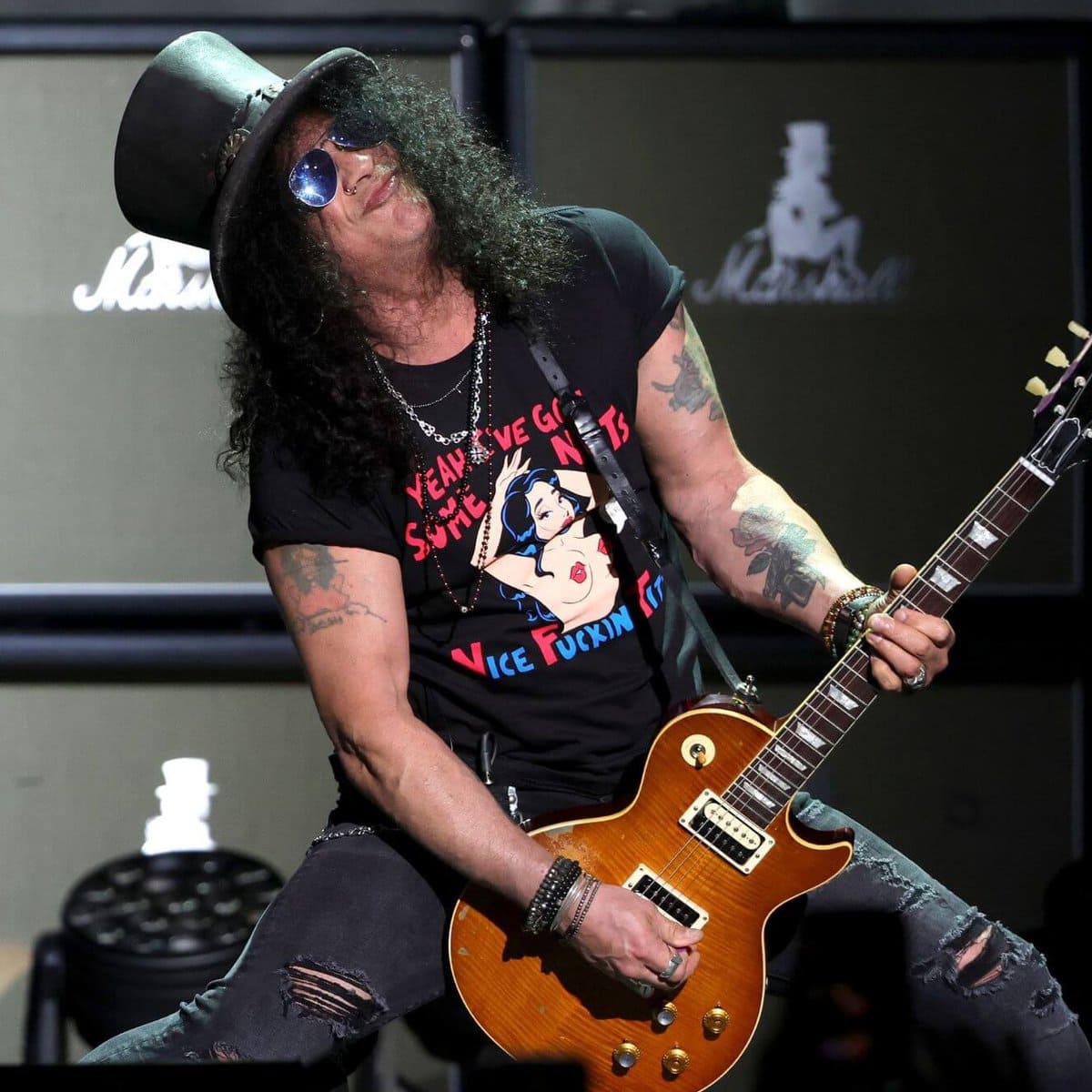 About Slash
Slash is one of the most famous guitarists in rock music history. With black leather clothes, a tall top hat, and long curly hair, he has an iconic look that is all his own. 
He began in the classic rock band Guns N' Roses but took a temporary leave to focus on his own solo music. 
In the last decade, he has rejoined the band and maintained his popularity throughout the years. 
Born Saul Hudson, Slash got his nickname from the actor Seymour Cassel, citing the young man's tendency to zip around quickly and always be moving.
---
Slash Costume| Halloween Costume Ideas
---
What is the most famous quote from Slash?

1. "The guitar is the best form of self-expression I know. .."

2. "Guitars are like women. …"

3. "I had no aspirations to be a musician, but I picked up a guitar for two seconds and haven't put it down since."