Put on your fur coat and get ready to get the Cruella de Vil costume!
Cruella de Vil is one of the iconic villains of Disney from 101 Dalmatians. She always wanted to look glamorous and fashionable.
She made her kidnap Dalmatians to skin them and get their furs off to make a coat. As depicted in her name, she is both drool and a devil.
---
You'll Need:
DIY Cruella De Vil Costume Guide
To get the look of this fashion-obsessed heiress, you need to have her iconic fur coat, black and white hair, a black dress, red gloves, and emerald earrings.
Because she was fascinated with furs, you also need to have a Dalmatian plushie. Having her looks is not enough; you also need to get her awful and horrifying character.
Because of her personality and style, wearing the Cruella de Vil costume will make you stand out at costume parties. So, get ready to look and feel rich!
---
Cruella De Vil Cosplay Costume
To look like the rude and mean villain, you must have a plunging black maxi dress. Almost every woman has a black dress. It can be readily available in your closet.
Her obsession with Dalmatian is also seen in her hair, so you need a black and white short wig. If you have short hair, why not try spray painting it?
Make her character realistic by practicing her personality. You need to have the skill to be mean and not feel any warmth toward others.
If you have no idea yet what to do at your costume party, why not get your friends and let them wear the costumes of Maleficent, Ursula, the evil queen, and Lady Tremaine to make it a Disney villain-themed party?
---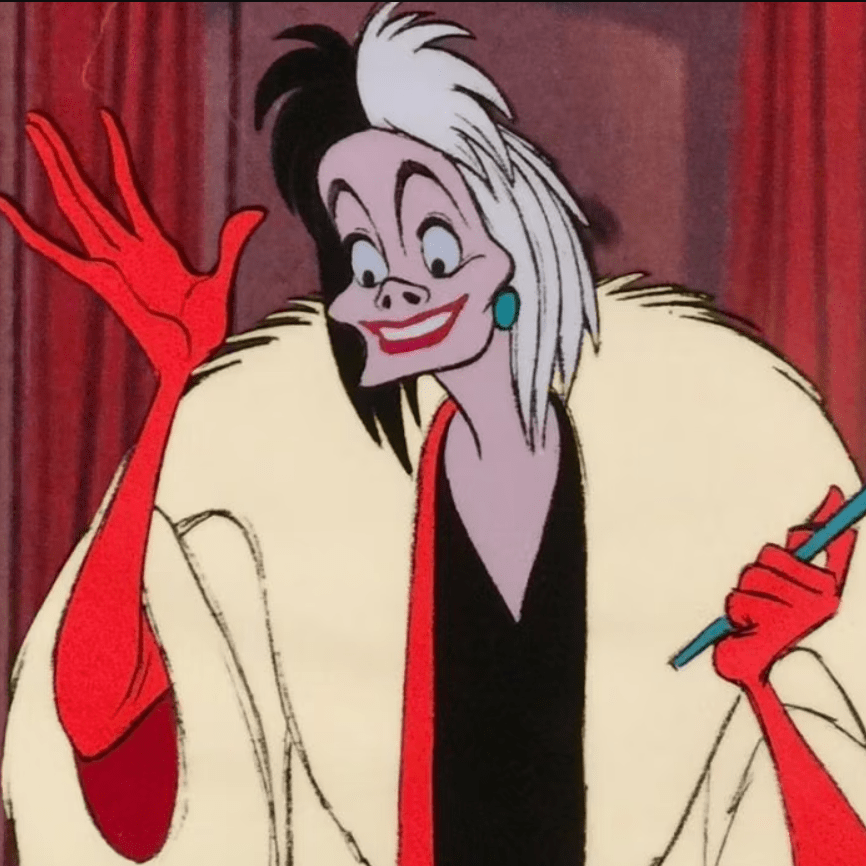 About Cruella De Vil
Cruella de Vil became famous for the animation and live-action movie Disney's 101 Dalmatians. She does not need any powers to be an antagonist.
All she needs is to be greedy, disrespectful of others, and have an annoying and short-tempered personality.
Because she has no concern for dogs, she bought a lot of Dalmatian puppies and became obsessed with their spots.
She thought having their fur as her clothing would make her famous and earn more money.
In the film adaptation of 101 Dalmatians, her character was played by different actresses such as Glenn Close, Michelle Gomez, and April Winchell.
Her character also appeared in the Once Upon a Time series, Descendants, House of Mouse, and The Simpsons. Cruella de Vil also had her movie, Cruella, where her origins were explained and how she became obsessed with furs.
Though she is an antagonist, she sometimes shows her funny personality when she does her reckless behavior.
---
Cruella De Vil Makeup Tutorial | Halloween Costume Ideas
---
What is the most famous quote from Cruella De Vil?

1. "When Can The Puppies Leave Their Mother? Two Weeks? Three Weeks?"

2. "Congratulations. You've Just Won Gold, Silver, And Bronze In The Morons Olympics!"

3. "Now Go And Stand Somewhere Until I Need You."

4. "You Idiots! You…You Fools! Oh, You Imbeciles!"

5. "Well Now, What Have We Here? So They Thought They Could Outwit Cruella?"