Lovers of the horror genre are sure to delight in a Candyman costume.
The Candyman, born Daniel Robitaille, is a brutal serial killer and a main character in the Candyman movies.
Candyman's horrifying backstory involves his hand getting cut off by a lynch mob. He is a vengeful spirit that goes after people indiscriminately, making them suffer as he did.
It is said that if a person says Candyman three times, he will appear. He is one of the most iconic and easily recognizable horror villains in the genre, making Candyman a popular one.
---
What you need:
DIY Candyman Costume Guide
If you want to spook your friends this Halloween, you can try the Candyman costume for yourself. 
Below, we explain the pieces you will need to put together your own Candyman costume. 
To dress like Candyman, you will need Black Leather with Fluffy Brown Fabric, Formal Pants, and Black Shoes.
Then, add some accessories like White Winter Scarf, Fake Blood, and Bees Stickers to your costume.
Don't forget to add his iconic item, Hook Prop, to complete the whole look.
---
Candyman Cosplay Costume
If you love horror films, the Candyman costume is a great choice for the next Halloween party.
To begin, you will first want to get his jacket down. This is one of his main pieces of attire. To achieve the look, get a black frock coat. Underneath it, you can put some brown faux fur fabric.
Underneath the jacket, he wears a pair of simple gray pants. A pair of black Oxford shoes completes the look, and a white neck scarf polishes it off. 
To make sure the costume is accurate, you'll need to get a meat hook prop. Wear it on one of your hands beneath the coat to make it look like a hook hand. 
If you want to spruce up your ensemble, you can add some fake blood all over the outfit to make it scarier. You can also put fake bees on your coat to reference his backstory.
---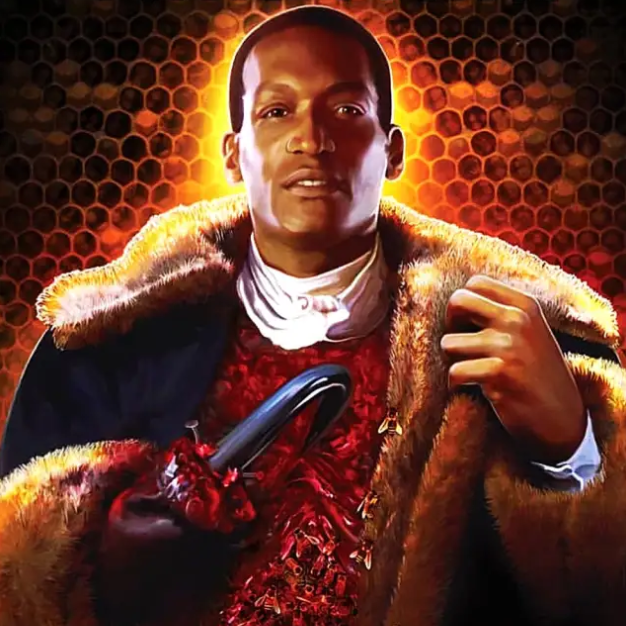 About Candyman
The Candyman is a terrifying villain that comes back from the dead as a vengeful spirit after being killed by a lynch mob.
He is a rather brutal killer who loves the fact that his bad deeds get people talking about him. For this reason, he takes a lot of pride in what he does and tries to keep people talking about each person he kills.
He is also quite intelligent and highly charismatic, making him a dangerous and complex villain.
Create a spooky and horror effect with the Candyman costume this Halloween! You will look wickedly cool with the iconic hook prop.
---
Candyman Makeup Tutorial | Halloween Costume Ideas
---
What is the most famous quote from Candyman?

1. "If You Say His Name Five Times While Looking In The Mirror, He Appears In The Reflection, And It Kills You."

2. "If You're Out Here Looking For Candyman, You Ask Me, Stay Away!"

3. "I Am The Writing On The Wall, The Sweet Smell Of Blood. Be My Victim."

4. "That's When I Saw The True Face Of Fear."

5. "You Ask Me, I'd Say She Found Him."