The Fourth Doctor costume is a great choice for long-time fans of the show, Doctor Who. He is arguably the most iconic and long-running Doctor of the series.
The Fourth Doctor, or Tom Baker, was on the show for seven seasons before the Doctors switched out. He was known for being kind-hearted and warm.
The Fourth Doctor was also known to be a peace-loving person. He was very charming and personable.
Even with his friendly attitude, the Fourth Doctor could be intimidating and threatening when it was needed. Sometimes, he even came off as rather heartless.
---
You'll Need:
DIY The Fourth Doctor Costume Guide
The complex personality and interesting appearance of the Fourth Doctor marked him in the hearts of Doctor Who fans.
To begin his iconic outfit, you will first want to wear a plaid dress vest. Then, put on a solid burgundy cravat necktie.
On his lower half, the Fourth Doctor wears a simple pair of corduroy pants.
Perhaps the most eye-catching piece of apparel he wears is his long scarf. Get the Fourth Doctor scarf to match the look.
On his head, the Fourth Doctor polishes off his smooth style with a suede brown fedora.
The fedora hat sits on top of his curly, short hair. If you don't have the right hair for the job, you can get a curly haired wig instead.
The Fourth Doctor marches around wearing a pair of black lace-up ankle boots. Of course, he also carries the famous Sonic Screwdriver that all of the Doctors carry around.
---
The Fourth Doctor VS The Tenth Doctor | Halloween Costume Ideas
---
The Fourth Doctor Cosplay Costume
With his quirky style, the Fourth Doctor is a fun character to dress up as. He has a bohemian look that sets him apart from many of the other characters on the show.
Though his apparel makes him stand out, it is still very comfortable. It is a good costume for wearing to long conventions, as you won't start feeling uncomfortable in the clothes.
One way to make this Fourth Doctor costume even more special is to dress up with friends. Have them wear cosplays of the other Doctors from the series for much fun.
---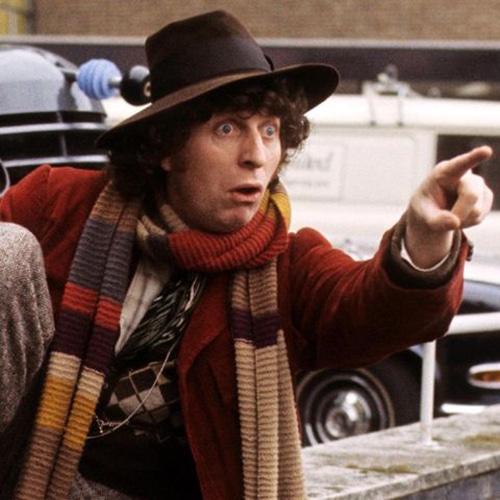 About The Fourth Doctor
The Fourth Doctor is the longest-running Doctor on the TV series, Doctor Who. He was on the show for seven seasons before they transformed him into the new doctor.
During that time, he captured hearts as a quirky and warm-hearted character. He is a charming pacifist who usually tries to take a gentle approach to challenges.
Even so, he has it in him to be tough and threatening, making him complex.
---
What is the most famous quote from The Fourth Doctor?

1. "If we don't find that pod before it germinates, it will be the end of everything! EVERYTHING, you understand? Even your pension!"

2. "The very powerful and the very stupid have one thing in common – they don't change their views to fit the facts. They change the facts to fit their views, which can be uncomfortable if you happen to be one of the facts that needs changing."

3. "Yes, well, I can see your long rest hasn't done anything to cure your megalomania. Have a jelly baby."

4. "Stupid expression, 'stands to reason.' Why isn't it 'lie down to reason?' Much easier to reason lying down."

5. "It's the end, but the moment has been prepared for…"