Do you already have a partner to do the Team Rocket costume? With the Team Rocket costume, you are ready to assemble a notorious thieving team.
Everyone who has watched the Pokémon anime series is familiar with Ash Ketchum, who aims to become the best Pokémon trainer.
But what about Team Rocket, made up of Jessie, James, and Meowth? These three recurring villainous characters in the show have been integral to this anime series.
They are the standard of the Pokémon anime, and looking back at the history of this show, and there is a lot of interesting trivia hidden around Team Rocket.
Although they are not as culturally influential as Ash or Pikachu, they are an essential part of the series' story and have contributed to the anime's long history.
---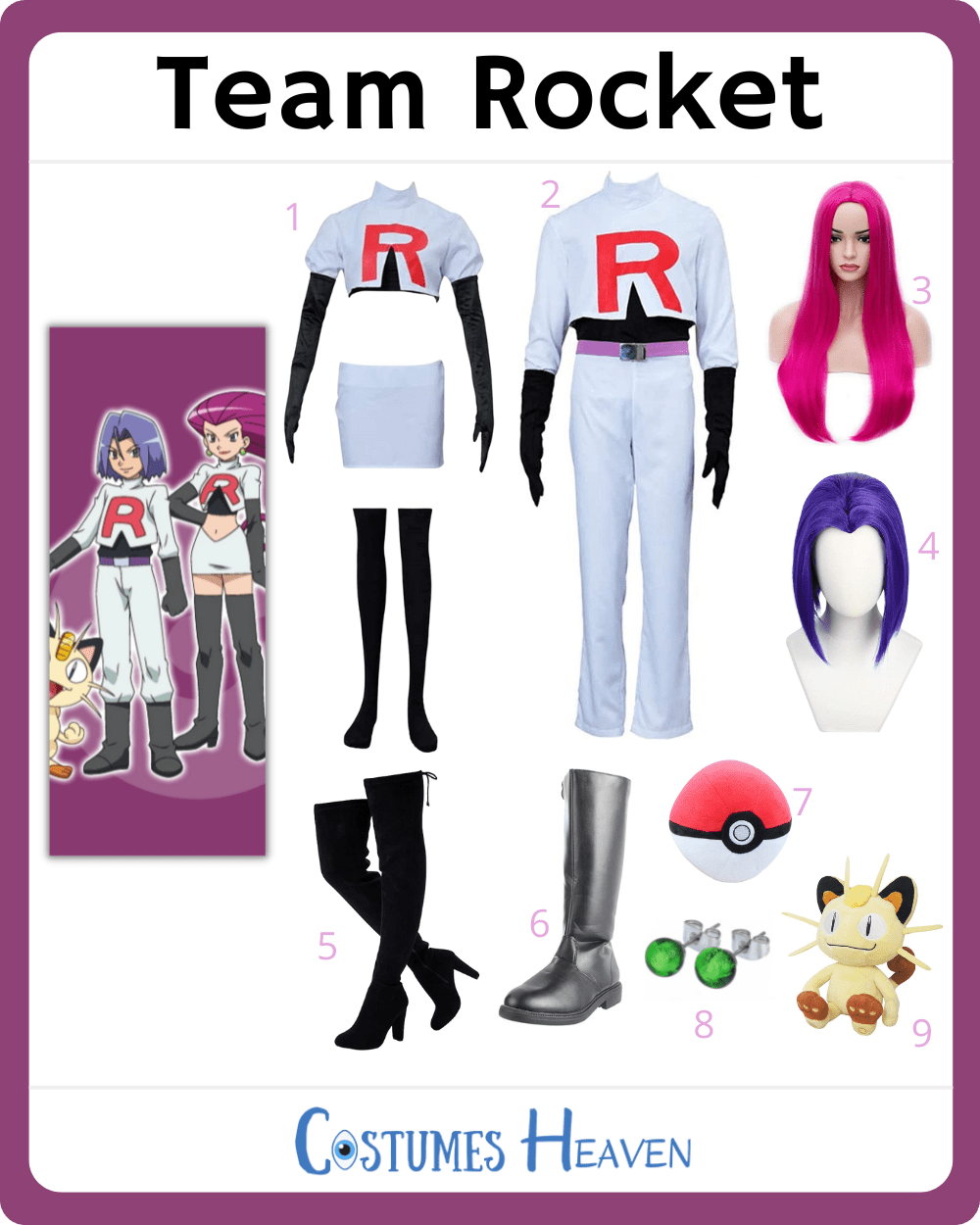 What you need:
DIY Team Rocket Costume Guide
Team Rocket is composed of Jessie and James, who wear similar costumes. They wear a long-sleeve white crop top with the letter R in the middle, representing "Rocket."
If you are portraying Jessie, you will need Jessie costume, a hot pink wig, black knee-high boots, and green earrings.
For James, you will need a James costume, a blue wig, and black boots.
Of course, don't forget to bring Meowth Plush and Pokebal to form a complete team.
---
Team Rocket Cosplay Costume
As the villainous role inside the Pokémon, they have uniform clothing wear. Both of their white shirts have the letter R in the middle. You can DIY it with red fabric paint if you cannot find white custom-made long sleeves.
To look like Jessie, wearing a black crop top undershirt underneath the white cropped long-sleeves. The outer shirt should have a small triangular cut on the middle front to show off the black undershirt. 
For the bottom, put on a white mini-skirt and black knee-high boots to make her look stylish.
Like Jessie, James also wears a black undershirt underneath the white long-sleeved crop top with a small triangular cut-out. He also wears white pants to match the top, secured with a light purple belt.
He also wears a purple wig that matches the color of his belt. Unlike Jessie, James' boots are below the knee and he wears shorter black hand gloves.
To complete the Team Rocket, James can bring a Meowth plushie.
---
About Team Rocket from Pokemon
Aside from being a video game series, Pokemon became an anime series and a movie. Nintendo released the first game version under Pocket Monsters Red and Green.
For its anime series, it premiered in Japan under The Pokemon Company in April 1997. The anime series was based on a video game with seven installments.
Team Rocket is a small group of antagonists that follows Ash on his Pokemon journey. They have been focusing on stealing Ash's Pokemon companion, Pikachu.
However, they have been defeated too many times and blast off to the sky. Usually, they are defeated through Pikachu's attacks. Team Rocket is also an expert in disguise, part of their strategies.
Wherever region Ash is in, the Team Rocket always find their way to Ash. But are never successful in their missions. Though they are always defeated and fail, they show off their great strategies for catching Pikachu.
---
Team Rocket Cosplay | Halloween Costume Ideas
---
What is the most famous quote from Team Rocket?

1. "Prepare for trouble!"

2. "And make it double!"

3. "To protect the world from devastation!"

4. "To unite all peoples within our nation!"

5. "Be as quiet as a mouse."