Try out the Squidward costume and be a cynical clarinet master at the Halloween party. Hello? You've reached the house of unrecognized talent, Squidward Tentacles speaking. Squidward is an appreciator of the finer things in life, including the fine arts, classical music, and quality dining. So he finds himself distressed by his career as a cashier at the fast-food joint The Krusty Krab. He is especially irked by the cheerful disposition of his overzealous coworker, the fry cook Spongebob. In his spare time, he practices the clarinet in his tiki head-shaped home, which is conveniently located right next to Spongebob's home.
---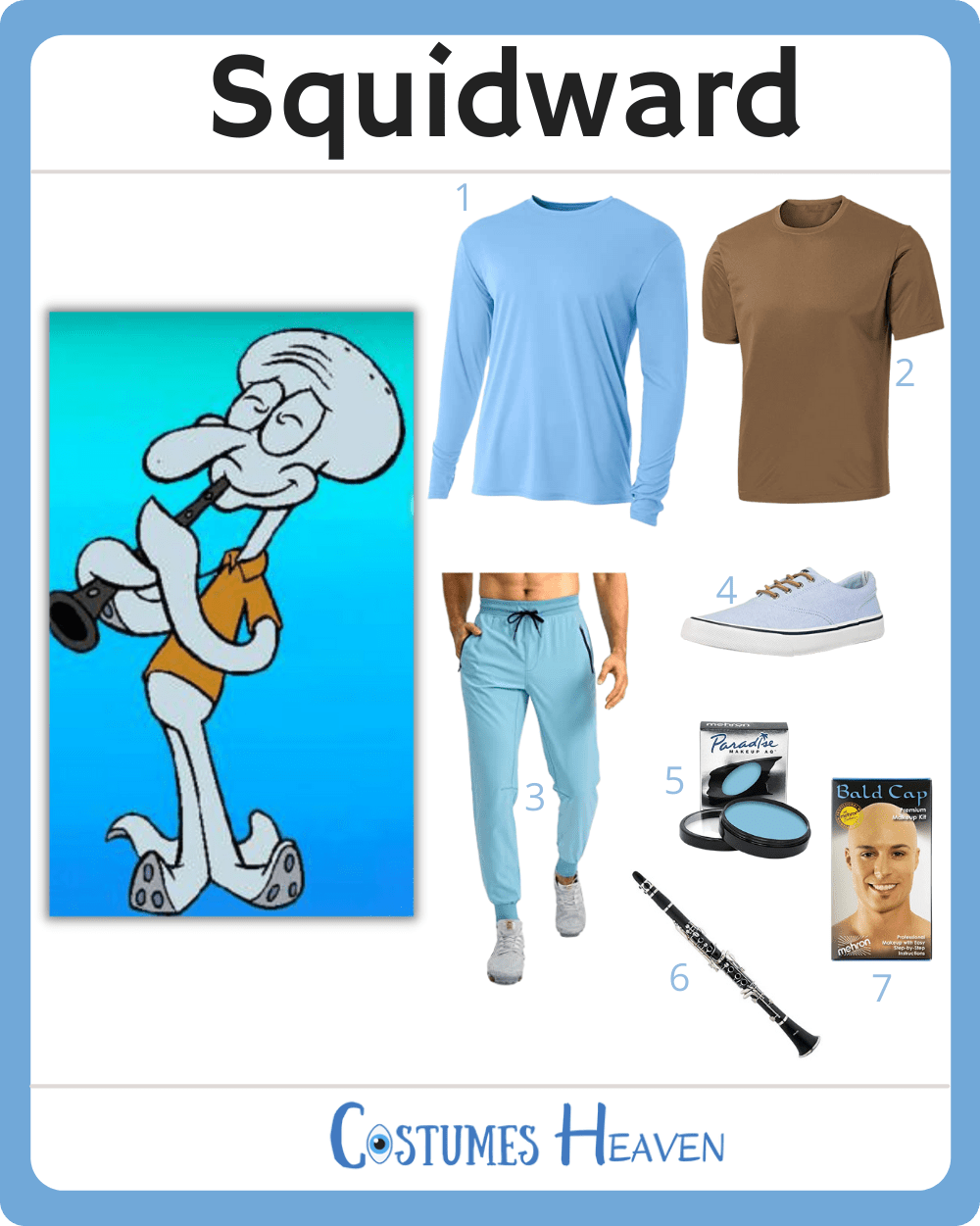 You'll Need:
DIY Squidward Costume Guide
If you want the look of this starving artist, the Squidward costume is the right choice for you. 
This costume features a brown t-shirt as well as a blue long-sleeved shirt to wear underneath, blue jogger pants, blue sneakers. Then, equip yourself with a bald cap, and a prop clarinet. Don't forget to use blue Liquitex acrylic paint for your face and body for that distinctive Squidward look.
---
Squidward Cosplay Costume
Spongebob Squarepants is a surrealist, tongue-in-cheek children's cartoon. It follows the complex lives and careers of sea creatures who live in the underwater town of Bikini Bottom. For Squidward Tentacles, the reality of his own life is hard-hitting. His personal style could be described as nondescript, as he wears nothing but a brown t-shirt. However, the aspects that define his cosplay are his blue skin color and his beloved clarinet.
If you want to take your Squidward costume a step further, you can draw lines on the top of your bald cap to resemble Squidward's wrinkles. The only other things you'll need to complete the look are a bad attitude and subpar clarinet-playing skills! 
If you want to complete the Bikini Bottom theme for your next cosplay outing, have your friends show up dressed as Spongebob Squarepants, Patrick Star, and Sandy Cheeks.
---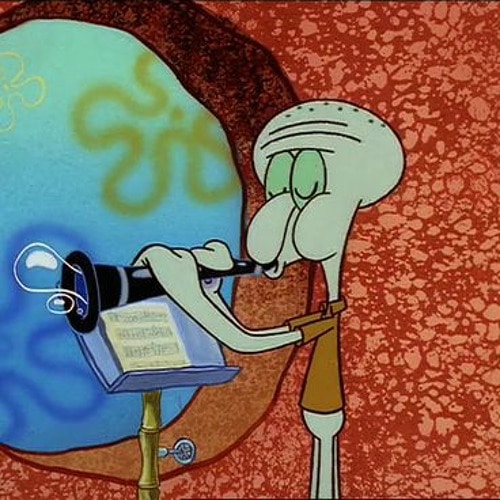 About Squidward From SpongeBob Squarepants
Squidward Tentacles is one of the main characters on the hit cartoon series, Spongebob Squarepants. It follows the character Spongebob Squarepants, a sponge who lives in a pineapple-shaped home under the sea. He is portrayed as ditzy, yet happy-go-lucky, with a smile always on his face. 
He works as a fry cook at the fast-food restaurant, the Krusty Krab. for a miserly crab named Mr. Krabs. When he isn't at work, he cares for his pet snail, Gary. He hangs out with his best friend, a dim-witted starfish named Patrick Star. He also goes to a driving school called Mrs. Puff's Boating School, where he makes many futile attempts to obtain his boating license. Although Squidward is frequently annoyed by Spongebob's attitude, he is often on his side and defends him when he is in need.
---
Squidward's Top 21 Funniest Moments 
---
What is the most famous quote from Squidward?
1. "I knew I shouldn't have gotten out of bed today."
2. "Wake me up when I care."
3. "It's just a cruel reminder that I'm single and likely to remain that way forever."
4. "I might as well sleep for 100 years or so."
5. "Just when I thought they couldn't get any stupider."