No matter who you are or where you go, everyone is sure to recognize a Shaggy costume instantly.

Shaggy Rogers is one of the main characters in the Scooby-Doo franchise. He is a part of the Mystery Gang who goes around together solving various mysteries.

Shaggy is a spacey character who usually seems more interested in eating snacks than getting to the bottom of various mysteries with his pals.

Scooby-Doo is the talking Great Dane in the group, and he is Shaggy's best friend. The two of them often end up in their own misadventures while the gang works to deduce the answer to the mysteries around them.
---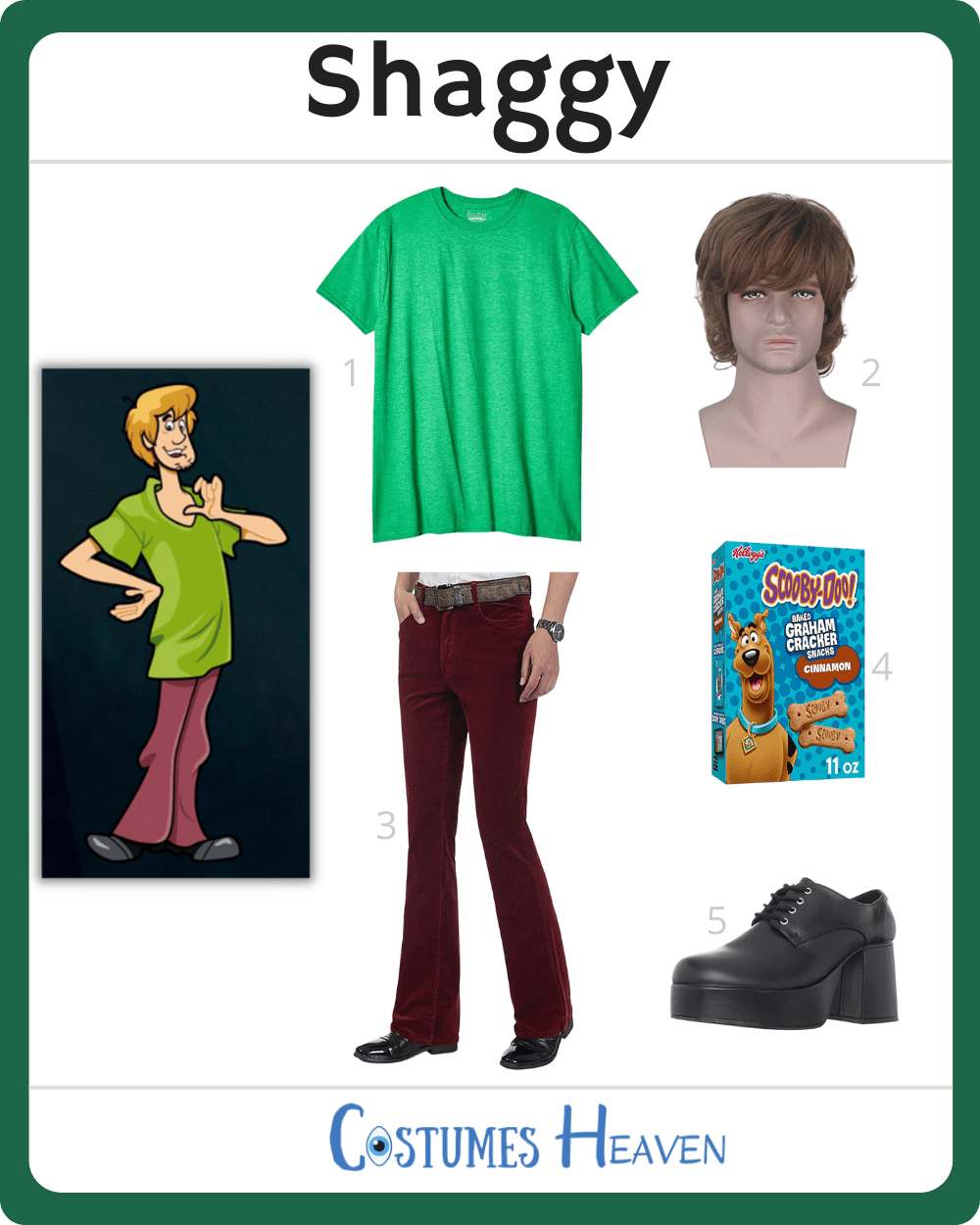 You'll Need:
DIY Shaggy Costume Guide
If you're looking for a classic cartoon character to cosplay, try the laid-back and retro Shaggy costume.
To begin, you will need to get a blonde shag wig that looks like the popular hairstyle from the 70s. 
Because this is his most defining feature and gives him his nickname, the hair is important to get right. 
The rest of his attire comes down to wearing a heather green crew neck t-shirt that is loose fitting and baggy. 
He wears a pair of dark brown bell bottoms that you can secure into place using a belt. 
Finally, Shaggy wears a pair of black platform shoes, making this the final touch you'll need for your 70s cosplay. Of course, don't forget to bring the Scooby snacks, the favorite food of Scooby.
---
Shaggy Cosplay Costume
Shaggy's fun and laid-back personality make him a favorite character for many viewers of the show. 
He is a fun and easygoing guy, and that is reflected by his casual manner of dress and his shaggy, unkempt hair.
Shaggy is a classic picture of relaxed 1970s style, from his apparel to his hair to his overall vibe. Dressing like Shaggy is a simple thing to do due to his very basic manner of dress. 
Why not let your partner dress up as Daphne and form a couple costume with you for a Halloween party? It is a great idea to add extra fun to your cosplay.
---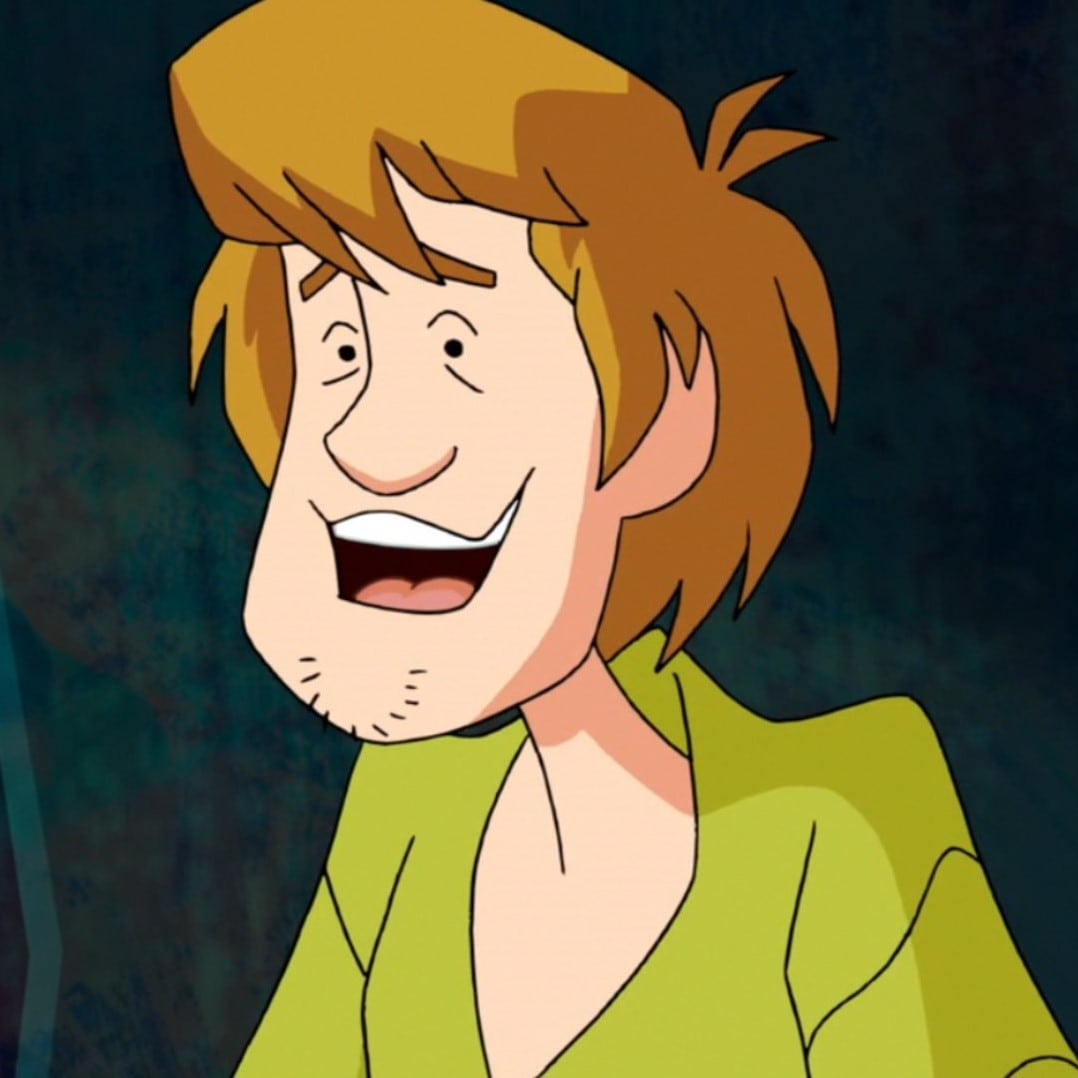 About Shaggy from Scooby-Doo
Shaggy is a loveable and spacey character in the Scooby-Doo franchise. He and his friends make up Mystery Inc. and go around solving various mysteries in their community. 
Typically, Shaggy seems more concerned with finding his next snack than he does with the mystery they are solving. This makes him the perfect companion to Scooby Doo, the talking dog in their party. 
Scooby is usually motivated to do scary things by Shaggy offering him his favorite dog treats: Scooby snacks. 
Together, they are a hungry pair that often winds up in trouble of their own while the rest of the group is hard at work solving mysteries.
---
Scooby-Doo & Shaggy Couples Costumes | Halloween Costume Ideas
---
What is the most famous quote from Shaggy?

1. "You never know where your next scare is coming from. You've just gotta find the courage to face it."

2. "Although sometimes I know it seems impossible, there ain't no need in drowning in your sorrow. If things are as bad as they can be, you can be sure there'll be a brighter tomorrow."

3. "Even my mom is calling me Shaggy now, which is weird, because Shaggy is more like a character that I play."