Professor Trelawney, or Sybill Patricia Trelawney, is a supporting character in the Harry Potter series.
Her duties as a seer include teaching Divination at the Hogwarts School for Witchcraft and Wizardry. In addition, she is the one who prophesied the one who could defeat and vanquish Voldemort.
She is a half-blood witch and a great-great-granddaughter of Cassandra Trelawney, famous as a Seer. Her students call her the Seer and joke that she predicted their deaths, causing some to be scared while others to be amused.
---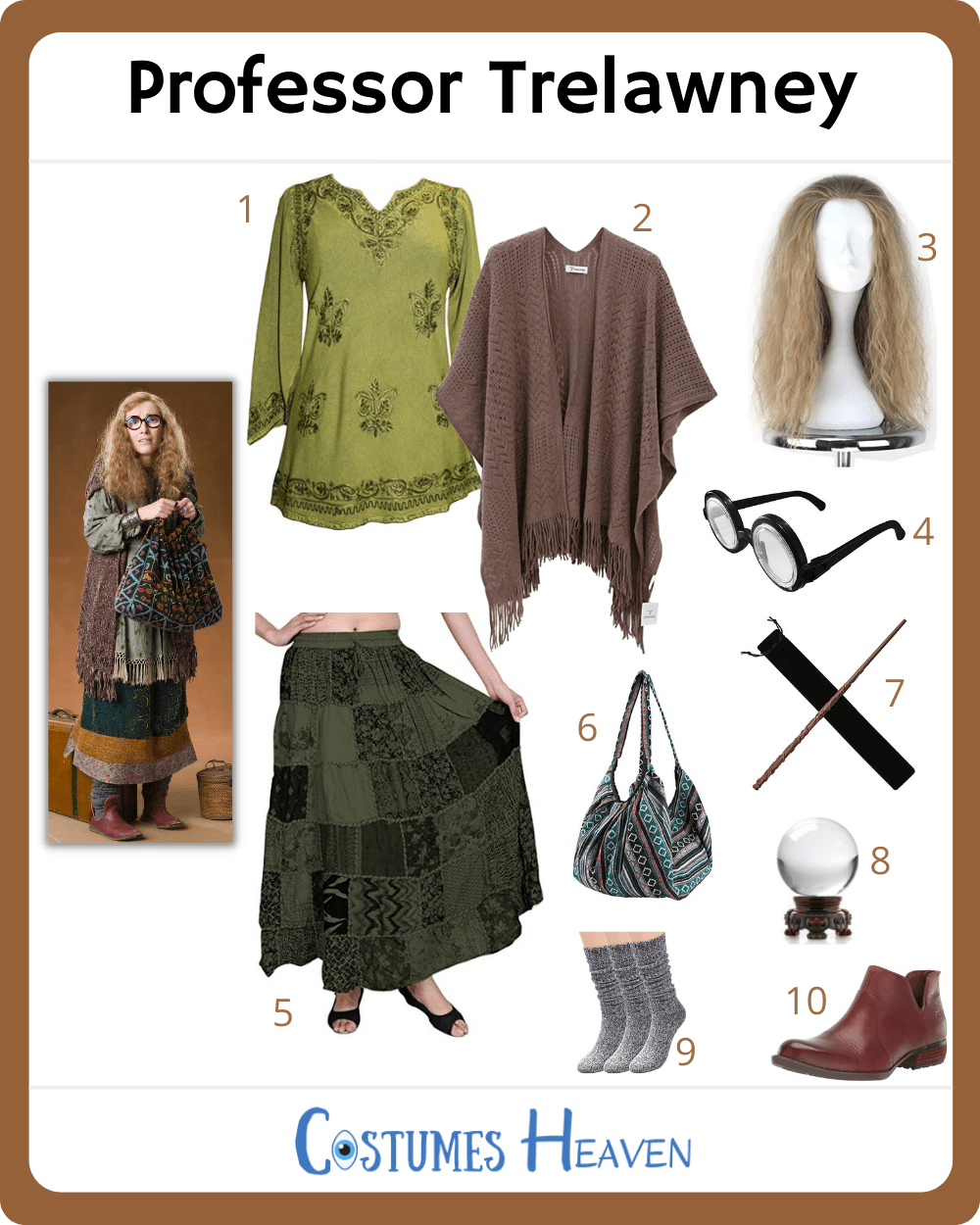 You'll Need:
DIY Professor Trelawney Costume Guide
Professor Trelawney looks like a desperate gypsy wannabe. Her favorite clothing is patchwork in earthy tones, and she loves shawls. 
Start off with a Medieval Blouse and Knit Shawl Wrap to nail her look. Then, choose a Gujarati Skirt to channel a gypsy vibe.
Next, add Blonde Wig, Nerd Glasses, a Large Tote Shoulder Bag, Wool Socks, and Ankle Boots to match the iconic look.
Finally, don't forget to bring the Wand Toy and Crystal Ball to complete your own Professor Trelawney costume. And now, you are ready to predict the future.
---
Professor Trelawney Cosplay Costume
Trelawney needs to be better known for maintaining a beautiful and graceful appearance. Her shabby dresses and messy look are what make her stand out. Throughout the movie series, she wears almost the same outfit. 
Cosplayers who dress like Professor Trelawney will stand out because of their strange appearance. Whether you're attending a costume party or a comic or movie convention, her presence makes an excellent costume.
You can take your cosplay to the next level. Invite your friends to dress as Professor McGonagall, Severus Snape, and Bellatrix Lestrange, and go to the party with you. Then, you can keep the Harry Potter theme and have extra fun at the party.
---
About Professor Trelawney
Despite her appearance, Professor Trelawney is a powerful Seer who sees into the future.
She also correctly predicted that Peter Pettigrew would escape and that Lord Voldemort would return, in addition to the prophecy that someone would defeat Lord Voldemort.
She also dropped crystal balls on Deathly Eaters' heads and helped tend the wounded during the War at Hogwarts. As well as attending to the dead, she taught a student how to do so.
Although she had an unkempt appearance and a crazy personality, the character was still popular. As a result, she makes for a good costume option for Harry Potter fans looking for something a little different.
---
Professor Trelawney Cosplay | Halloween Costume Ideas
---
What is the most famous quote from Professor Trelawney?

1. "Sit, my children, sit,' she said, and they all climbed awkwardly into armchairs or sank onto pouffes…"

2. "To Lavender: 'Incidentally, that thing you are dreading – it will happen on Friday the sixteenth of October."

3. "Until we meet again,' said Professor Trelawney faintly, 'fair fortune be yours. Oh, and dear –' she pointed at Neville, 'you'll be late next time, so mind you work extra hard to catch up."