Classic Nintendo fans are the perfect candidate for a Princess Daisy costume. Princess Daisy is one of the characters in the Mario World franchise.
In different iterations of the game, she is seen doing different things, from living on the court to driving go-karts.
Princess Daisy is said to be the love interest of Luigi and partner of Mario. Unlike Princess Peach, Daisy is thought to be more of a tomboy.
Even so, Princess Daisy is always seen wearing her best princess attire. This article will show you how to dress in your own Princess Daisy costume.
---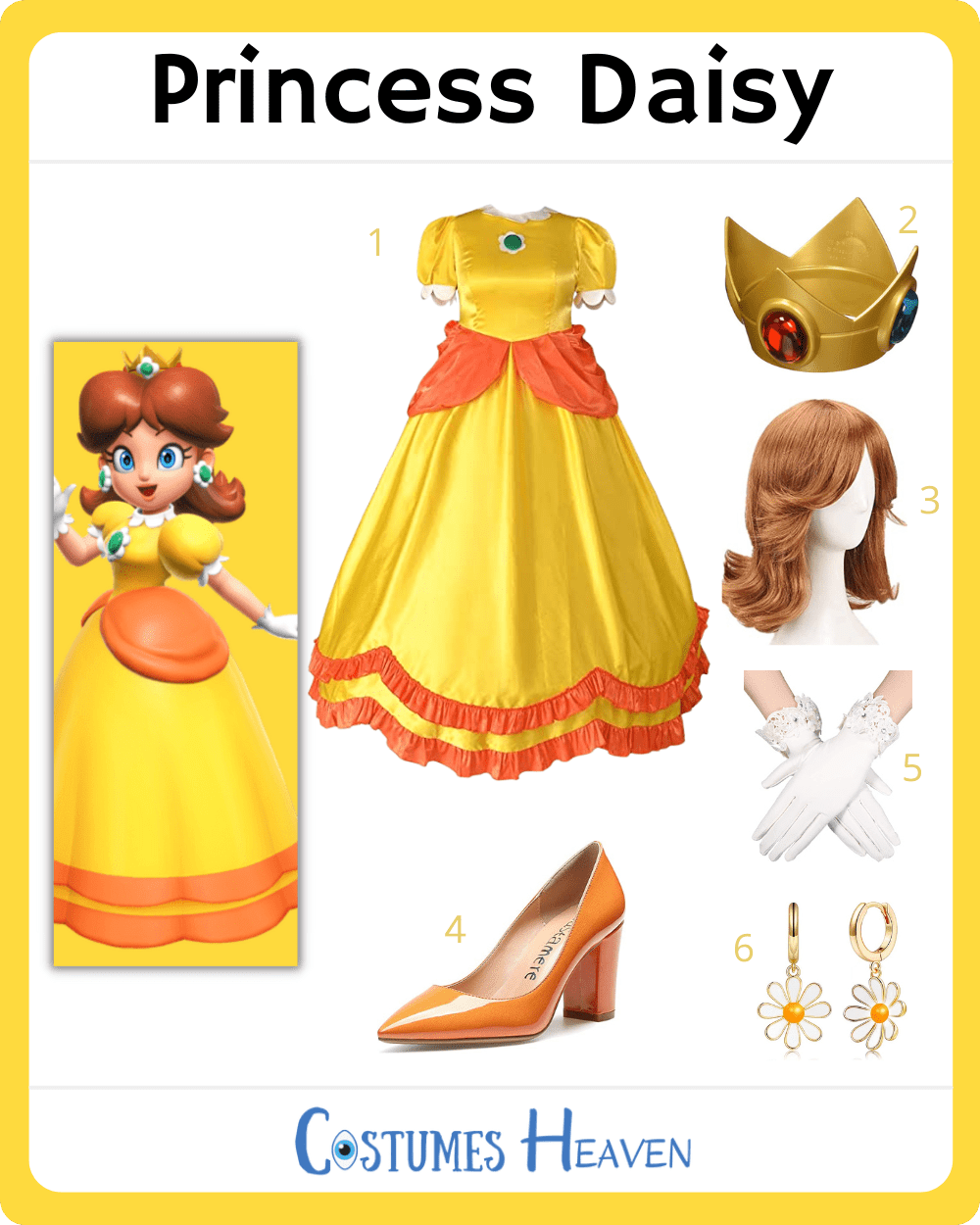 You'll Need:
DIY Princess Daisy Costume Guide
Before anything else, you will need a Princess Daisy dress. If you are crafty, you could make your own. Otherwise, her yellow and orange princess dress can be purchased.
Since she is a princess, Daisy wears a crown. Her crown is very specific looking, so be sure to buy a replica of it. She has short reddish brown hair that sits on her shoulders, complete with bangs. Get a wig in this color and style, or style one yourself.
On her feet, she wears a pair of orange shoes to match her dress. Finally, add white princess gloves and flower earrings to complete the finishing touches on your princess Daisy costume.
---
Princess Daisy Cosplay Costume
The Princess Daisy costume is a fun choice for those who like to dress like royalty. It is colorful and vibrant and is sure to get attention at any gaming convention.
The dress is primarily made of sunset colors, so you could do your makeup to match it. Make the costume even more special by carrying around a stuffed mushroom or two from the game series.
Get your friends to dress up as other Mario World franchise members, like Mario, Luigi, Princess Peach, Bowsette, and Donkey Kong, and form a group costume with you. Then, you all are ready to hit the scene together!
---
About Princess Daisy
Princess Daisy is the counterpart to Princess Peach. She is a bit more of a tomboy than Princess Peach, but she still dresses like a princess. She is said to be the love interest of Mario's working partner, Luigi.
Princess Daisy is one of the game's most popular and iconic characters. Above, we've shown you how to piece together your very own Princess Daisy costume for your next convention or Halloween party.
---
Princess Daisy Makeup Transformation | Halloween Costume Ideas
---
What is the most famous quote from Princess Daisy?

1. "Yeah! Daisy's the winner!"

2. "When it comes to beauty, there's no denying Daisy is fairest of all! There's no need to battle."

3. "If it's beauty you want, then there's no need to prove it – Daisy is the fairest of all!"

4. "What? He [Bowser] was in my way!"

5. "Everyone says I'm the fairest of all!"