Get the look at this funny cheapskate crustacean with this Mr. Krabs costume guide. Hello, I like money! Eugene Harold Krabs, more commonly referred to as Mr. Krabs, is a miserly crab from the hit Nickelodeon TV show, Spongebob Squarepants. He is the owner of the fast-food restaurant, The Krusty Krab, at which he employs Squidward Tentacles, a cynical squid, as the cashier. And a cheerful sponge, Spongebob Squarepants, as the fry cook. The Krusty Krab is known for serving their signature dish Krabby Patties, burgers that have made a name for themself in the town of Bikini Bottom.
---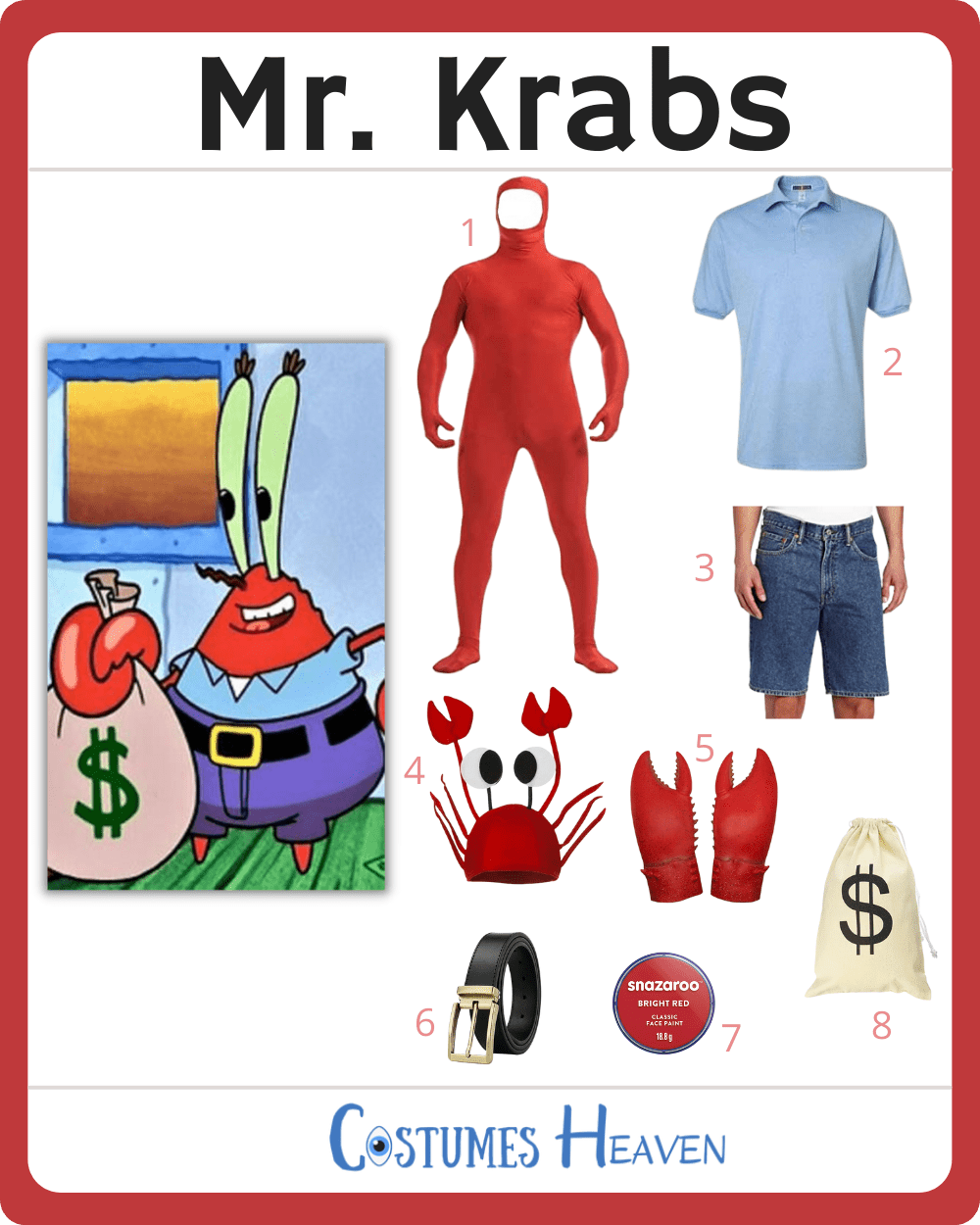 You'll Need:
DIY Mr. Krabs Costume Guide
Mr. Krabs is so in love with money that, in one episode, he is even seen tucking his money into bed!  To Mr. Krabs, money comes before his family, his customers, his employees, and even his own life! 
To achieve the look of this cheapskate crustacean, begin your Mr. Krabs costume by putting on a red bodysuit and layering it with a light blue polo shirt, blue denim jean shorts, and a black belt. Top off your head with a crab hat with claws and wear some claw-shaped gloves. Don't forget to grab the money drawstring bag to complete your crabby look!
---
Mr. Krabs Cosplay Costume
Throughout the series, he makes miserly money-saving efforts such as refusing to raise Spongebob and Squidward's pay and refusing to turn up the thermostat. Mr. Krabs is completely and utterly obsessed with money and is extremely frugal, going to extreme lengths to save money. 
Now that you have the basic elements for your Mr. Krabs costume, you can take your look to the next level. Why not paint your face red and carry around a fake money bag. You can create a fake money bag by grabbing a brown paper or mesh bag and drawing a dollar sign on it to show off Mr. Krabs' obsession with money. If you really want to take it to the next level, practice speaking with Mr. Krabs' signature pirate-like Scottish brogue. 
If you and your friends want to keep up with the Spongebob Squarepants theme for your next costume event, have them dress up as Spongebob Squarepants, Patrick Star, Pearl, and Sandy Cheeks for an iconic group cosplay. 
---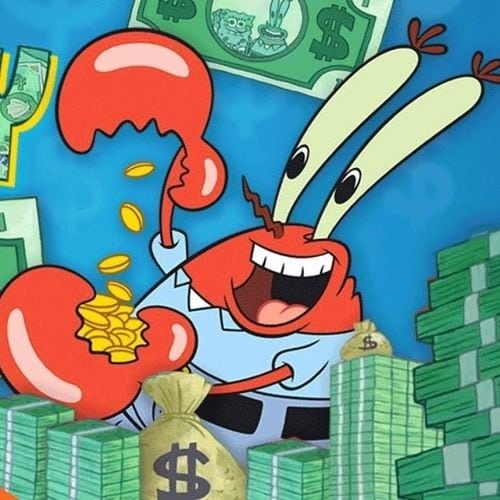 About Mr. Krabs From Spongebob Squarepants
Mr. Krabs is a character in the Nickelodeon long-running hit kids' TV series, Spongebob Squarepants. In the series, Mr. Krabs is Spongebob's boss at his job at The Krusty Krab. Mr. Krabs is also the adoptive father to Pearl. A large teenage whale who he found on his doorstep when she was a baby and lives with her inside an anchor-shaped home. 
His arch-nemesis is Plankton, the owner of the restaurant across the street that serves as his business competition, The Chum Bucket. Mr. Krabs spends several episodes attempting to thwart Plakton's evil plans to steal the secret formula for his Krabby Patties.
---
Mr. Krabs' Greediest Money Moments
---
What is the most famous quote from Mr. Krabs?
1. "A 5 letter word for happiness – MONEY."
2. "If I don't make any money today I'll surely break out in a rash!"
3. "Congratulations, sir! You have just given me my one-millionth dollar!"
4. "Give to the Children's fund? What have the children ever done for me?"
5. "Three cheers for the world's greatest fry cook…SpongeBob!"