The Milo Thatch costume is an excellent choice for any lover of the Disney movie Atlantis: The Lost Empire.

Milo Thatch is one of the main characters in the film. He is accidentally given an ancient book that contains a map of the mysterious underwater country of Atlantis.

Then, together with other explorers, he begins the adventure of finding this legendary lost empire.

In the course of his adventure, he encountered his love interest, Kida.
---
You'll Need:
DIY Milo Thatch Costume Guide
Fortunately, those who want to cosplay Milo Thatch will see that his attire is quite simple and easy to replicate. 
Follow our costume guide to achieve the look of this scrawny adventurer.
To dress like Milo Thatch, you will need Khaki Tank Top and Olive Cargo Pants paired with Timberland Boot and Pants Gaiter Leggings. 
Then, add some accessories like Vintage Round Glasses and Canvas Web Belt to the outfit.
To achieve a better look, you can carry an Old Leather Journal with you. And now, you will create a costume that any Disney fan will recognize.
---
Milo Thatch Cosplay Costume
Many fans of Atlantis: The Lost Empire love the bookish, adventurous character of Milo Thatch. For this reason, the Milo Thatch costume is popular. 
As an adventurer, Milo Thatch wears clothes that are simple and comfortable. 
Begin the costume with a khaki tank top. If you want to show how skinny Milo Thatch is portrayed to be, you can get one that is a size larger so that it is baggy.
With the top, you can pair some olive cargo pants and boots. This will give you an adventuring look you need. 
Complete the look by carrying around an old leather journal. This will replicate the one that Milo is translating that belonged to his grandfather. 
Take your cosplay to the next level. You can invite your partner to dress like Kida and go to the party as a couple costume with you.
---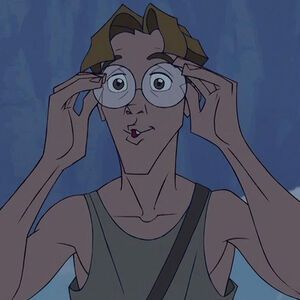 About Milo Thatch from Atlantis
Milo Thatch is the main character in the Disney movie Atlantis: The Lost Empire. 
When he was a boy, Milo became an orphan after a railway accident. His grandfather then raised him. 
Over time, Milo Thatch became fond of the interests that his grandfather had. This included antiquities and languages. 
Milo goes on to graduate from a prestigious school at a young age. His knowledge lands him a job at the Smithsonian Institute in Washington, D.C. 
He proposes that they take a trip to explore Iceland in search of the Shepherd's Journal. 
On the adventure, he met Kida, the daughter of the king of Atlantis. And together with her on an incredible journey to discover the power of Atlantis.
---
Kida and Milo Cosplay | Atlantis | Halloween Costume Ideas
---
What is the most famous quote from Milo Thatch?

1. "This is an illustration of the Leviathan, the creature guarding the entrance to Atlantis."

2. "By the way, we were never properly introduced. My name's Milo."

3. "Carrots? Why is it always carrots? I didn't even eat carrots!"

4. "Excuse me, you dropped your dy-dy-dy-dynamite!"