Meg Griffin is awkward and disliked older Griffin's sister from Fox's Family Guy. 
On the TV sitcom Family Guy, Meg Griffin is the most hated member of the family because of her lack of beauty.
Meg was initially the "sweet teenage daughter." She frequently accepted responsibility for the awful deeds committed by the other family members. 
Still, over time, Meg became a helpless teenager who received little attention from her family and schoolmates.
Poor Meg has a miserable existence with an unimpressive athletic appearance and no curves, which makes her highly unconfident.
---
You'll Need:
DIY Meg Griffin Costume Guide
Meg is your go-to cosplay character if you want to recognize and embrace the insecure and self-conscious side you once had who constantly tried to fit in with the "cool crowd."
With our DIY Meg Griffin costume guide, you can get ready quickly. You won't need anything exceptional and almost certainly already have it all at home. 
To dress up as Meg Griffin, start by wearing a white T-shirt, then put on a pink T-shirt on top of it.
All you need for the bottom are relaxed-fit jeans and white sneakers.
Once you're all dressed up, you'll need a shoulder-length brown wig and a pink beanie for the iconic look. 
Remember her iconic circular glasses in an 80s design to complete the signature look. And yes, remember to apply the pink lipstick!
---
Meg Griffin Cosplay Costume
Although dressing up as the stereotypical old-fashioned Meg, who doesn't get much attention, is simple, you shouldn't get too enthusiastic since, like Meg, you have to endure the loud boos of others and definitely won't be the talk of the town. 
To make your cosplay more fascinating and entertaining, ask your family to dress up as other Griffin family members (Peter, Lois, Chris, and Stewie). And keep the Family Guy theme at your next cosplay event.
---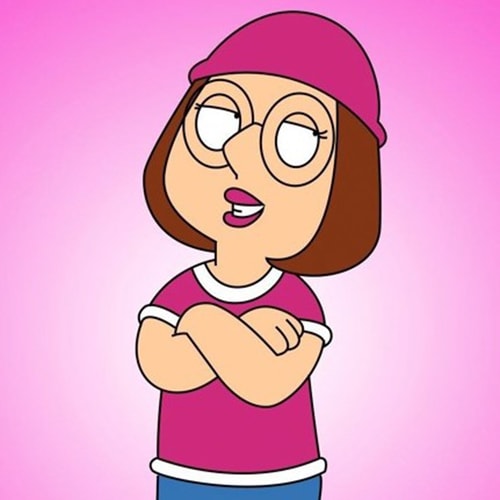 About Meg Griffin
Megatron "Meg" Harvey Oswald Griffin plays the main lead in the Fox animated cartoon series Family Guy. She is the firstborn of Peter and Lois Griffin and the elder sister of Chris and Stewie. 
Like most teenage girls, Meg struggles with her body image and self-esteem. Her family, which routinely humiliates her verbally and physically, dangerously reinforces these sentiments of poor self-worth.
Clumsy, anxious, and attention-seeking, Meg will go to great lengths to improve her social life and attract the attention she craves, even though practically all of her plans are doomed to failure. Being Meg Griffin is not an easy life.
---
Meg Griffin Cosplay In Real Life | Halloween Costume Ideas
---
What is the most famous quote from Meg Griffin?

1. "Trust me, I know more about getting bullied than anyone."

2. "I'm not either."

3. "No one ever told me I mattered before."

4. "I cut your name into my arm so I can always remember you."

5. "In the last election, you voted for Mighty Mouse."