A Master Roshi costume is sure to make a splash amidst millennial cosplayers who grew up with Dragon Ball.
Master Roshi is one of the most notable supporting characters from the Dragon Ball franchise.
On the surface, he is a perverted hermit and a master of martial arts. But did you know that he is the originator of the Kamehameha Wave?
Despite his highly questionable lecherous tendencies and old age, Roshi is a highly respected and capable warrior. He has even served as the master of characters like Gohan, Ox-King, Goku, Krillin, and Yamcha.
The way he pushes his students to achieve new heights and supports them all the way makes him one of the most beloved Senseis in anime.
---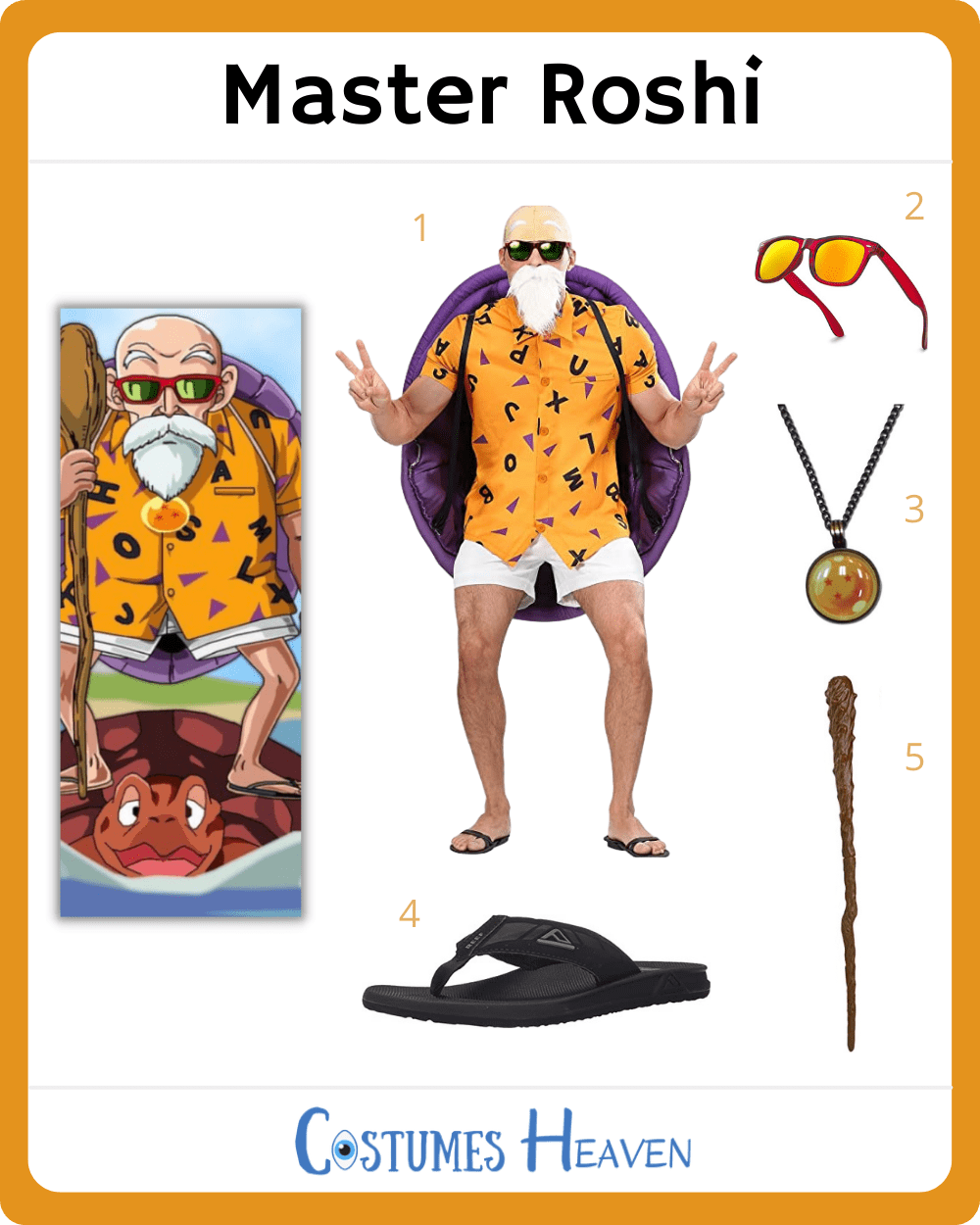 You'll Need:
DIY Master Roshi Costume Guide
The centerpiece of Roshi's outfit is the Men's Hawaiian Floral Shirt, which should take a dark yellow to orange like color. Add a DragonBall Z Yellow Necklace on top!
Follow up with a Men's Classic Fit Beach Shorts that are spotless white in color. Don't forget to adorn your feet with Classic Black Flip-Flops.
Pair yourself with a Purple Plush Turtle Shell Bag. If the color you want isn't available, simply color it with vivid Purple Fabric Paint.
Next, get a pair of Red-rimmed Retro Style Classic Sunglasses. You will also need a bald wig and a classic White Beard.
Finally, finish your cosplay with a Wooden Staff!
---
Master Roshi Makeup Tutorial | Halloween Costume Ideas
---
Master Roshi Cosplay Costume
Master Roshi became popular for being the extremely perverted but highly proficient Martial Artist from DragonBall.  His classic look also played a key role in that!
Master Roshi's classic Hawaiian look gives the impression of a useless old geezer. His vivid and colorful ensemble makes him really stand out and has become an inspiration for older men in Anime and Western Cartoons alike.
If you enjoy comfy Cosplays that pay tribute to by-gone fashions, this is the perfect cosplay for you. Embrace the Hawaiian Holiday spirit within with this easy ensemble made from simple components in record time.
Here's an idea: Try a DragonBall group cosplay this Halloween to radiate the significance of your costume. Get your friends to cosplay as Gohan, Goku, Krillin, and Yamcha, and you can storm the party as the best Sensei+Students gang!
---
About Master Roshi
Also known as the "Old Heavenly Martial Arts Master", "Turtle Hermit" and "God of Martial Arts", the DragonBall franchise wouldn't be the same without Master Roshi.
Being over three hundred years old from the onset, Roshi loves eating home-delivered pizza despite living so far out at sea. He enjoys reading, watching TV, indulging in adult content on the internet, playing video games, and taking afternoon naps.
This lecherous pervert is prone to making humorous sexual advances on beautiful women, including Bulma, Launch, Maron, Android 18, and Chi-Chi. He firmly believes that he is very cool, despite being generations behind in terms of fashion and mannerisms.
Regardless, Master Roshi cares deeply for his students and will go to great lengths for them. His compassion and understanding of his proteges drive him to even pave the path for their futures, garnering fans' love as a near-perfect mentor. 
---
What is the most famous quote from Master Roshi?

1. "A couple billion Zeni…?! Even if I went to a strip club everyday, I wonder just how many years it would take to use it all up…"

2. "Luck is also part of one's skill."

3. "I can't spend my time watching dirty videos with someone like you around!"

4. "To think he was capable of the Kikoho… It's a tremendously destructive technique. Many times more so than the
Kamehameha. But because it's so powerful, the user can die due to intense energy loss. Even if you don't die, it will still shorten your life span."