Lovers of the Disney movie, Frozen, are sure to fall for the Kristoff costume. Kristoff is one of the characters in the film who works as an ice seller.
Kristoff is voiced by Jonathan Groff, an American actor. He ends up running into problems with his ice-selling career when the summertime becomes frozen as well.
His partner, a reindeer named Sven, helps him do the job. Usually, he is on his own, playing his guitar and hanging out with Sven.
Kristoff's life changes when Princess Anna comes to him in hopes that he will help her locate her sister, Elsa. During the journey, Kristoff and Anna end up falling for one another.
Kristoff is a sweet man who is loyal to those he cares about. He is hardworking and takes his job seriously.
---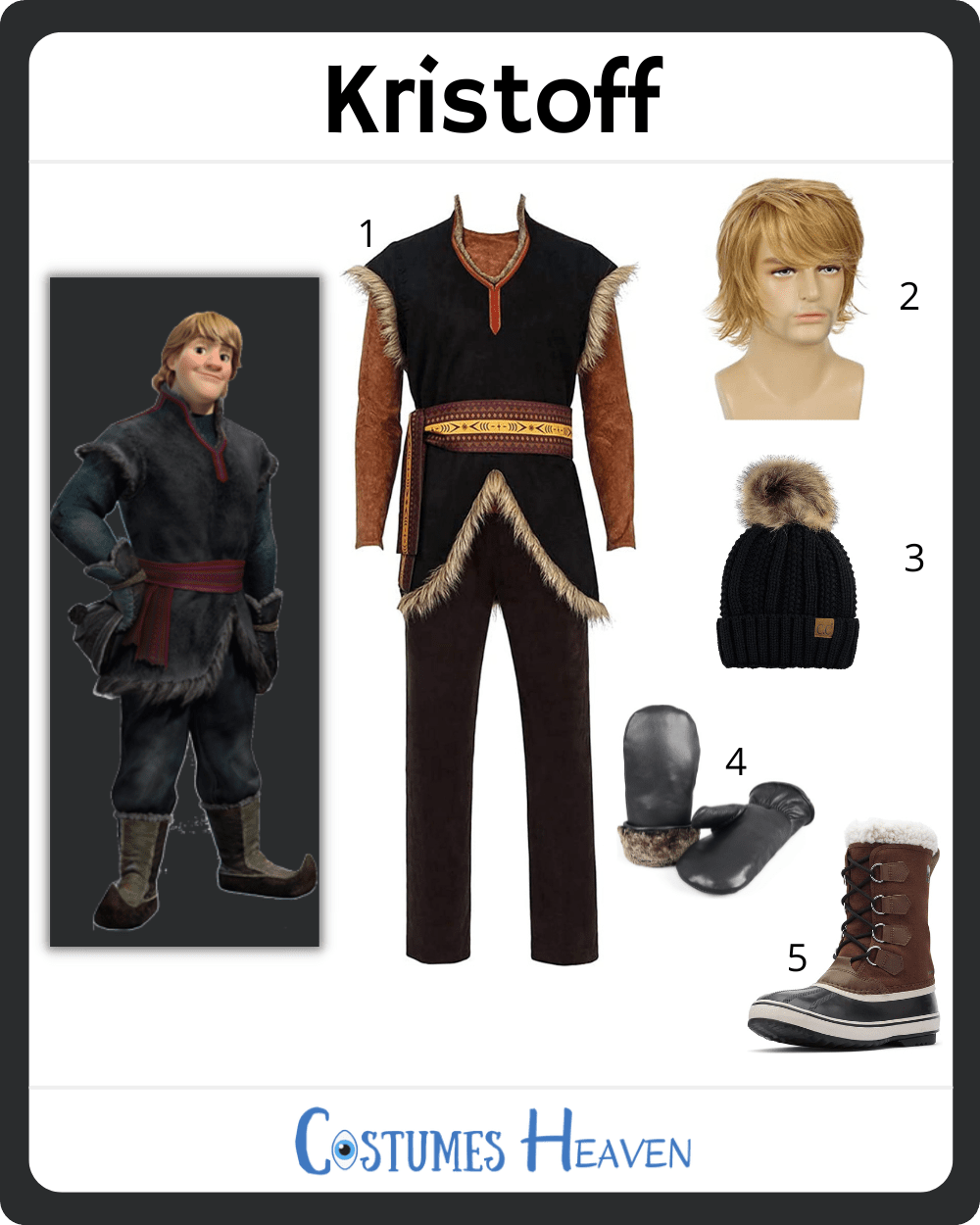 You'll Need:
DIY Kristoff Costume Guide
His kindness and bravery are apparent when he agrees to go on the adventure to rescue Elsa.
Create your Kristoff costume from scratch by starting with a black sleeveless tunic and a black sweater. Over top of it, drape a dark red scarf on your neck and shoulders.
He wears a simple pair of black cargo pants, as well as black snow boots on his feet. Protecting his hands from the cold are black winter gloves.
Grab some faux fur fabric and put it on the hem of the tunic to get the look of his fur attire. To make sure you really look the part, you will need a short blonde wig to top it all off.
---
Kristoff Cosplay | Halloween Costume Ideas
---
Kristoff Cosplay Costume
The Kristoff costume is one of the most toned-down ones in the movie. This is especially true when you compare him to his royal counterparts and how he dresses.
His style reflects his simple lifestyle and career. It also reflects the chilly environment that he lives in.
Because the Kristoff costume is so cozy, it is a great choice for cosplayers who are dressing up during the colder months.
Taking your cosplay to the next level, you can invite your partner to dress as Princess Anna and form a couple costume with you. You will surely stand out with an iconic look.
---
About Kristoff from Frozen
Kristoff is one of the main characters in the movie, Frozen, which came out in 2013. He is voiced by Jonathan Groff.
Kristoff begins his story as an ice seller who makes a living selling and delivering ice. When summertime comes around and it is still frozen, his business takes a hit.
Kristoff spends a lot of time playing guitar with his reindeer friend, Sven. Things change for him when Princess Anna comes to him looking for help.
Anna asks Kristoff to help her locate Elsa. He agrees, and the two embark on a journey together.
During this journey, Anna and Kristoff fall for one another. He is quite likable with his brave and laid-back nature. He is loyal and hardworking, making him easy to love.
---
What is the most famous quote from Kristoff?

1. "You Got Engaged To Someone You Just Met That Day?"

2. "Are You Cold?"

3. "Make Sure She's Safe."

4. "I Could Kiss You."