Get out of the stereotypical princess role and become a wise, brave princess with this Kida Atlantis costume. Princess Kita made her debut in the 2001 Disney animated action movie Atlantis: The Lost Empire. Kita is a powerful warrior. She was the daughter of the king of Atlantis and became queen at the end of the movie.
---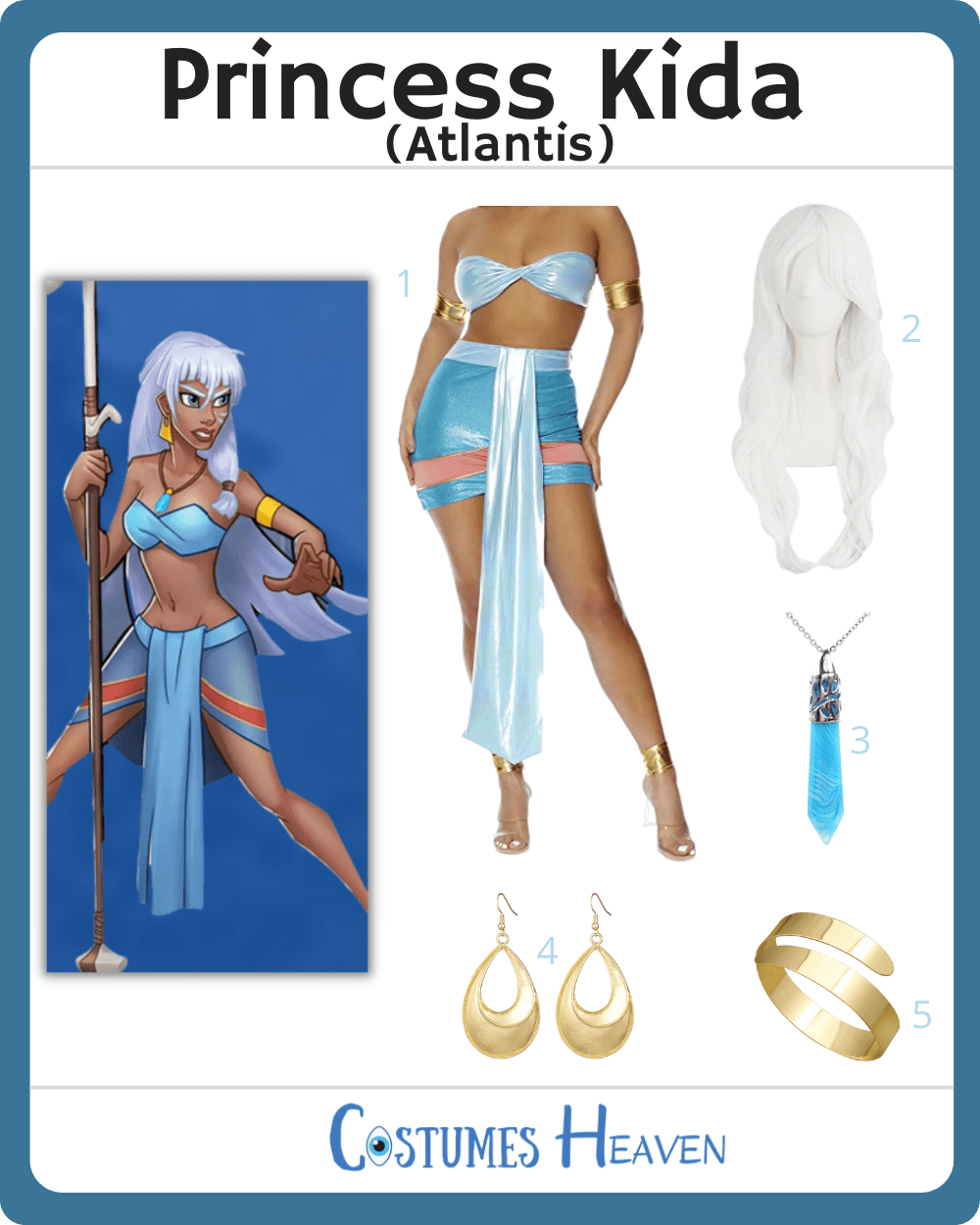 You'll Need:
DIY Kida Atlantis Costume Guide
The Kida Atlantis costume is not overly complex. What makes it really cool is the fact that you will be able to dress up like one of the aquatic princesses, and you can easily add your own style and ideas to it if you want. 
Follow our costume guide to dress like Princess Kida easily. Start with a Princess Kida Costume and White Long Curly Wig to get her iconic look. Then, accessorize yourself with Reiki Pendant Necklace, Teardrop Earrings, and Armband Bangle Bracelet. Put all items together, and you already get your own Kida Atlantis costume.
---
Kida Atlantis Cosplay Costume
The Kida Atlantis costume is one of those costumes that are very easy to wear. That's what we like about this the most. It's all about offering a lot of creative style and innovation. It still pushes the limits in a tasteful way. There are some accessories and decorative elements, but not too many, so they can show the simplicity of the people that live in Atlantis. That alone is what really makes Kida Atlantis such a great character.
It is better not to cosplay Princess Kida alone; invite your friend to dress like Milo Thatch and keep the Atlants theme going for Halloween or the next cosplay event with you. In this way, you can form the couple costume and enhance the fun of cosplay.
---
About Princess Kida from Atlantis 
Kida Atlantis is the love interest of Milo Thatch, the main character in the Atlantis movie for Disney. Milo accidentally gets an ancient book containing a map of the mysterious underwater country of Atlantis. He then embarks on an adventure with other explorers to find the legendary lost empire.
Until the arrival of the expedition, Kita met Mylo, and together they experienced a beautiful and incredible journey to discover the power of Atlantis. In order to save Atlantis and its people, the princess firmly fused with the crystal and completed her mission. Eventually, Kita became the first-ever Queen of Atlantis!
---
Princess Kida Makeup Tutorial | Atlantis | Halloween Costume Ideas
---
What is the most famous quote from Princess Kida?
1. "You are a scholar, are you not? Judging from your diminished physique and large forehead, you are suited for nothing else."
2. "We were once a great people. Now we live in ruins. The kings of our past would weep if they could see how far we have fallen."
3. "Our people live, but our culture is dying. We are like a stone the ocean beats against. With each passing year a little more of us is worn away."