The Jenny Forrest Gump Costume (hippie version) costume is one of the most popular costumes from the movie.
Forest Gump is a film that stars Tom Hanks as Forrest Gump, the main character. Robin Wright played Jenny. Though the main plot of the movie revolves around Forrest, Jenny also gets a lot of screen time.
Jenny is shown to be a kind girl with mild manners but a difficult past. Throughout her life, Jenny has dealt with tough issues, battling her demons and trying to find herself.
---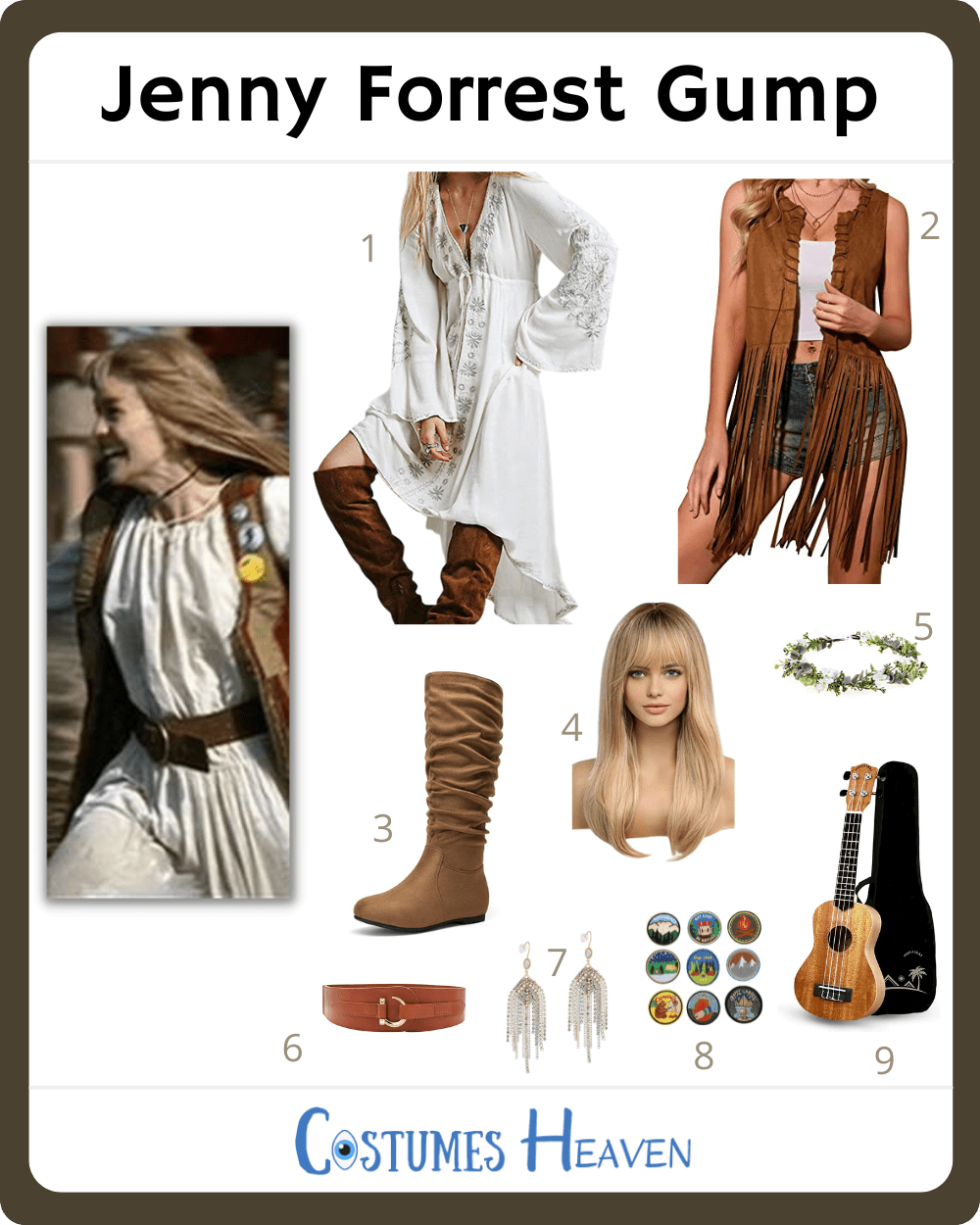 You'll Need:
DIY Jenny Forrest Gump Costume Guide
The Jenny Forrest Gump costume (hippie version) outfit she wears is one of the most iconic of the options.
The hippie look includes flowy, loose-fitting clothing that also makes it quite the comfortable choice.
To dress like Jenny, you first will need a Cowgirl Brown Vest with some Insignias paired with White Dress and Brown Boots.
Then, put on a Blond Bangs Wig and Flower Crown to get her iconic look.
Finally, add some accessories like Brown Obi Belt, Hippie Earrings, and Ukulele to complete the costume.
---
Jenny Forrest Gump Cosplay Costume
Viewers get to witness Jenny at various times throughout her life. It makes her a sympathetic character to the viewers as they learn about her traumatic past and see her kind heart.
To get the hippie look that Jenny dons, you will need to wear a brown suede vest over a plain white cotton dress to really bring the outfit together.
Wearing a brown Obi belt across the waist of the dress will cinch the waist and match the brown vest. On her feet, she wears brown suede boots that match the other two accessories.
She accessorizes with boho earrings and some boho-style finger rings. You can take her outfit to the next level by carrying around a guitar prop.
The Jenny Forrest Gump Costume is a good choice for lovers of the film and the character. You can make this costume even better by having a friend dress up like Forrest Gump to attend the costume party with you.
---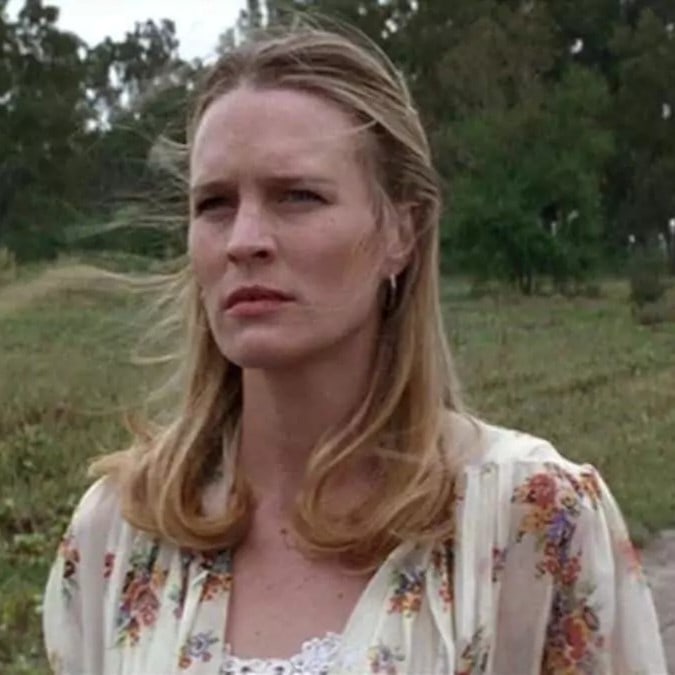 About Jenny from  Forrest Gump
Jenny is one of the recurring characters in the film Forrest Gump. She is a friend of Forrest's. Though the story is one that follows Forrest Gump, viewers also get a chance to get to know Jenny as well.
Throughout the film, viewers visit Jenny in different areas of her life. The journey reveals that she is a woman who had a hard upbringing and a lot of trauma.
Even so, she remains kind and patient, especially with Forrest himself.
---
Forrest Gump Jenny Scene | Halloween Costume Ideas
---
What is the most famous quote from Jenny from Forrest Gump?

1. "Run, Forrest! Run!"

2. "Listen, you promise me something, OK? Just if you're ever in trouble, don't be brave. You just run, OK? Just run away."

3. "Do you ever dream, Forrest, about who you're gonna be?"

4. "Were you scared in Vietnam?"