From the animated movie Onward comes the Ian Lightfoot costume. Ian Lightfoot is the star of the film, which was released in March 2020.
In this fantasy movie, Ian Lightfoot is an elf who lives in the city of New Mushroomton. The story follows Ian Lightfoot and his brother, Barley Lightfoot.
The two are in possession of a gift given to them by their father on his deathbed. They were very little when they acquired this gift.
They also have a magical staff that has different abilities. One of them is their ability to resurrect their father and bring him back to life. This staff was given to them on their 16th birthday by their mother, Laurel Lightfoot.
Ian Lightfoot is the youngest of the pair and is not very confident in himself. He is kind and compassionate, and he spends much of the film missing his father. Many viewers resonated with him.
---
You'll Need:
DIY Ian Lightfoot Costume Guide
To create an easy Ian Lightfoot costume, you will first need to get a black and red flannel shirt. Be sure to wear this shirt buttoned up to the chest.
Pair the flannel shirt with some dark blue jeans. The final piece of the main ensemble is a pair of dark blue sneakers.
Since Ian Lightfoot has blue features, you will need blue face and body paint. You will also need temporary blue hair dye or a short blue wig to pull off the look.
Ian Lightfoot is an elf, and elves have pointed tall ears. You can accomplish this look by wearing a pair of fake elf ears.
Finally, you can get a wooden staff that looks like the one from the movie.
---
Ian Lightfoot Makeup Tutorial  | Halloween Costume Ideas
---
Ian Lightfoot Cosplay Costume
Since Ian Lightfoot is an elf with blue skin, this costume makes a fine choice for fans of the fantasy genre. Even though he has an eccentric appearance, he dresses in a very human way.
Because of his simple ensemble, he is easy to cosplay with clothes you may already have in your closet.
You can make this costume stand out by having a friend dress up as his brother, Barley Lightfoot.
---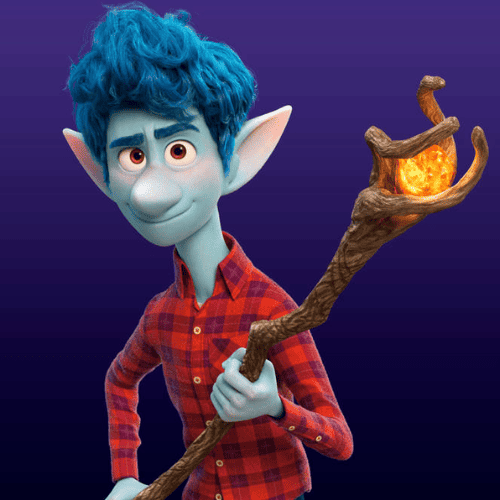 About Ian Lightfoot
Ian Lightfoot is one of the two children in the Lightfoot family. His brother, Barley, grows up beside him as the older brother.
When the two were young, their father passed away, but not before passing on to them a mysterious gift. When they turn 16, their mother also gives them a staff. This staff has the ability to bring their father back to the world of the living.
Ian Lightfoot has spent much of his life missing his father. He is a friendly kid who lacks self-confidence.
With the easy-to-follow steps above, you can get ready to create your own Ian Lightfoot costume just in time for your next cosplay event or convention.
---
What is the most famous quote from Ian Lightfoot?

1. "I can't run from the cops!"

2. "Wow. That's… really terrible."

3. "Well, I owe an awful lot of that to you."

4. "I never had a dad, but I always had you."