Looking to dress in a Ferb Fletcher costume from Phineas and Ferb? Look no further, Ferb. I know what we're gonna do today! Ferb Fletcher is the main character in the Disney show Phineas and Ferb. He and his brother Phineas spend the summer having fun and building inventions. Fans of the show definitely remember Ferb for his long head, green hair, and hilarious one-liners.
---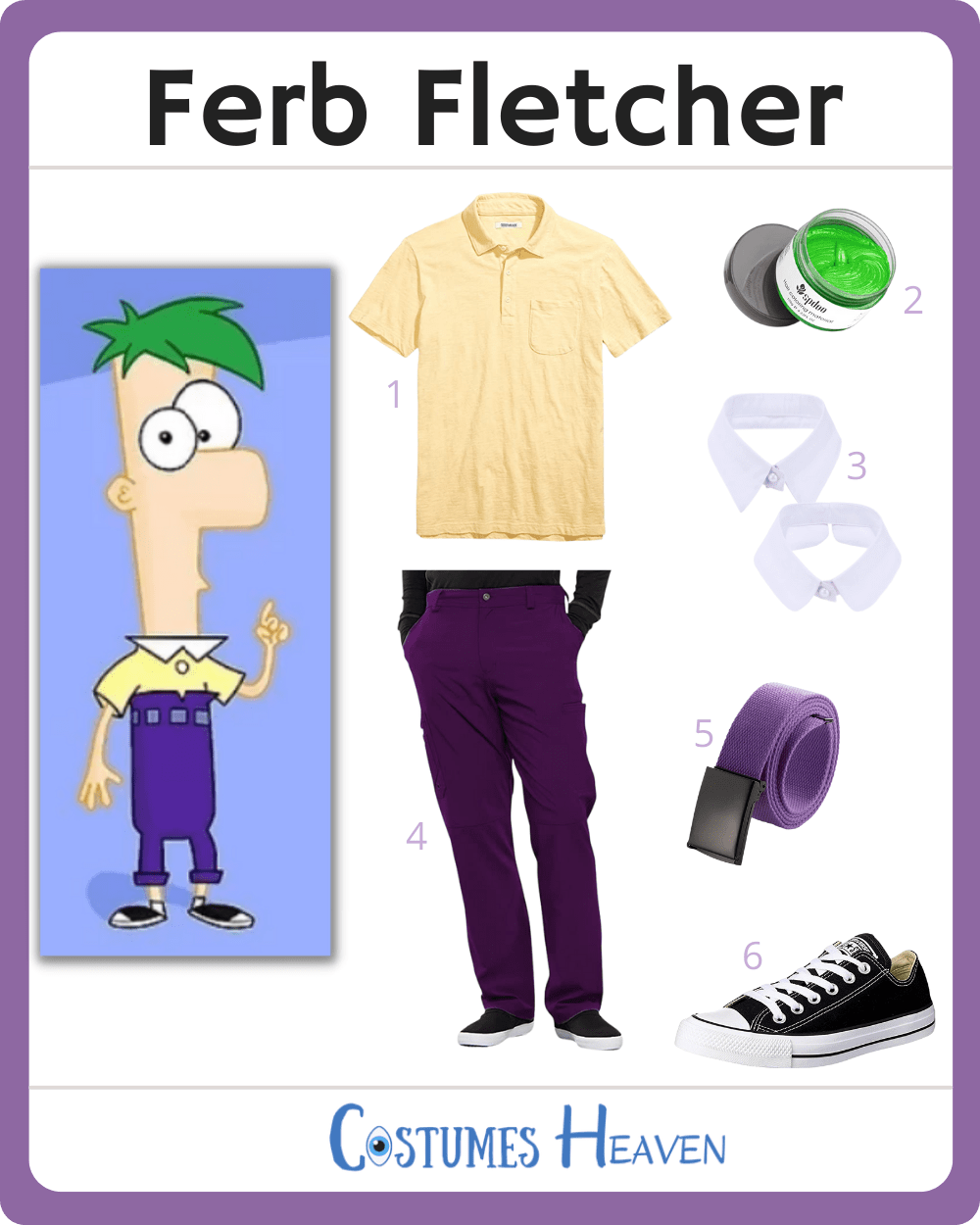 You'll Need:
DIY Ferb Fletcher Costume Guide
Ferb rarely speaks; when he does, it is often profound and quietly hilarious. Like Phineas, he is quite adept at building things, far beyond what is expected of someone his age.
To dress up as Ferb Fletcher, you'll need the following: A Yellow Polo Shirt with a White Faux Collar, Purple Pant, Black Converse Sneakers, Green Hair Wa, and Purple Belt.
---
Ferb Fletcher Cosplay Costume
Whether you partner up with someone in Phineas and Perry the Platypus costume or go alone, dressing up in a Ferb Fletcher costume is an excellent idea that is bound to impress both fans of the show and non-fans alike. 
First, you'll need a green wig. It would be best if the wig you get is in bright green. You could make it messy or spiky looking, like Ferb's messy hair. Since Ferb doesn't have eyebrows, you can choose to shave your eyebrows for added effect.
You'll need a yellow shirt with a white collar and a button for Ferb's body. Since it's pretty hard to find one exactly like this, you could just layer a faux collar on top of a plain yellow shirt to make it look like the one Ferb wears. Next, you'll need a pair of high-waisted purple pants. Tuck your shirt into your pants. Ferb wears it high above his waist, so you could opt to do the same thing. Use indigo or purple belt that's in a slightly lighter shade than your pants. You'll also need to roll up your pants to a little below the knee to match Ferb's pants.
---
About Ferb Fletcher from Phineas and Ferb
Ferb Fletcher has appeared in all episodes of _Phineas and Ferb_. He was born in England. When his father, Lawrence Fletcher, married Linda Flynn, Ferb moved to the Tri-State Area. He lives with his family and has two stepsiblings: his older sister Candice and Phineas. He is particularly close to Phineas, who is around the same age as he is. Together, they spend the summer having all sorts of adventures and building all sorts of things. Unlike his more talkative and extroverted brother Phineas, Ferb expresses himself more through his actions.
---
Ferb Fletcher's clip from Phineas and Ferb | Halloween Costume Ideas
---
What is the most famous quote from Ferb Fletcher?
1. "They're the only mammals to lay eggs."
2. "With a slight chance of scattered lawn gnomes."
3. "Sharks have to continue to move forward, or they'll drown."
4. "You know, mummies have their brains pulled out through their nose."