In Christmas Vacation, Ellen Griswold is the patient wife of the overly enthusiastic Clark. She is played by Beverly D'Angelo in the film and is known for her roles in Entourage and American History X.

Clark is insistent on having a traditional family Christmas. He goes all out to accomplish it to show how good he is at being a father and a man.

Ellen patiently allows him to do all of his extravagant activities to prepare. This includes cutting down a too-large Christmas tree and covering their home in lights.

Ellen Griswold has fun planning their vacations, though they usually get messed up in some way by Clark himself.
---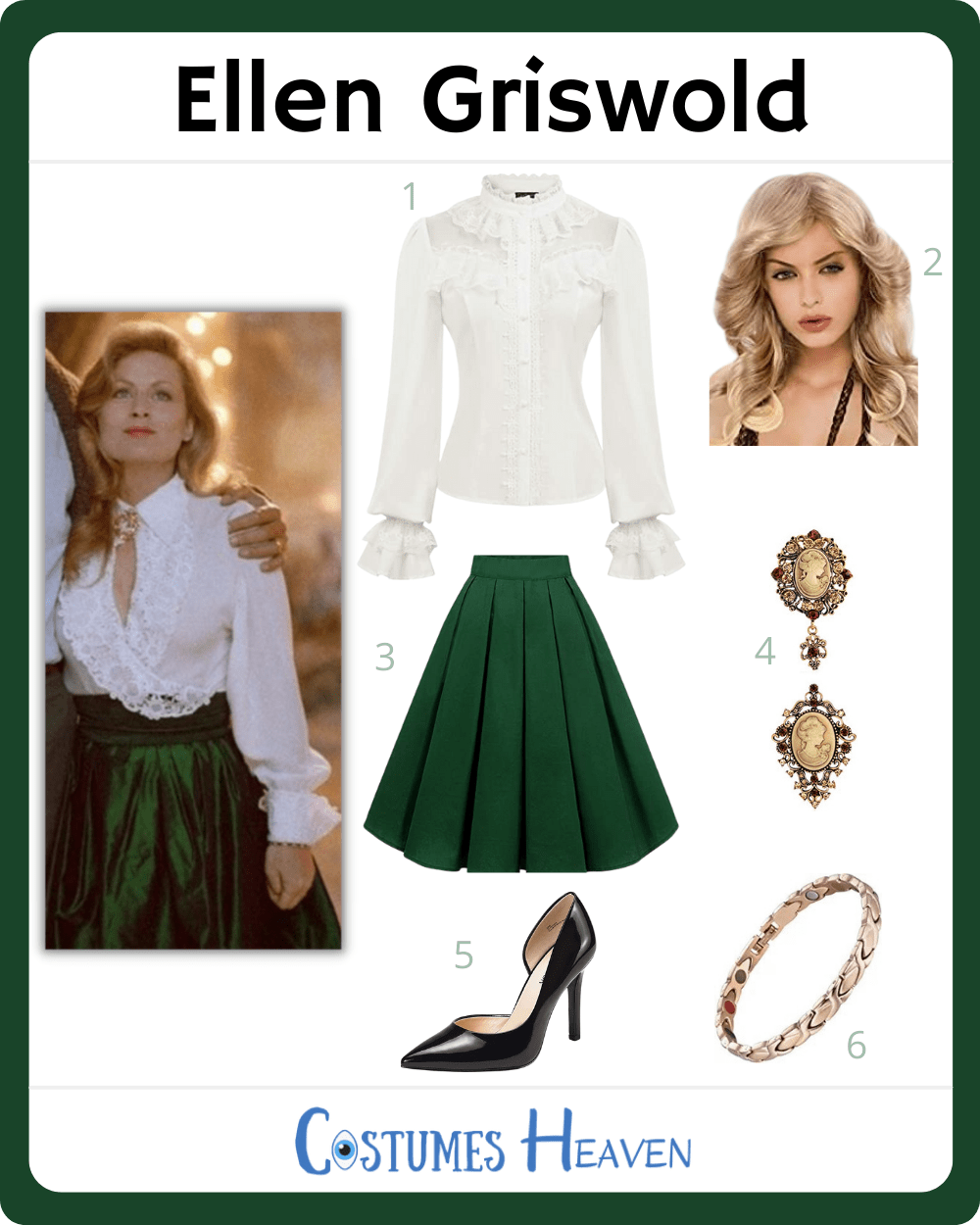 You'll Need:
DIY Ellen Griswold Costume Guide
One of her best outfits is worn on Christmas Vacation on Christmas Day. 
It is an especially good choice for attending Christmas parties and dressing up in a fun way as a subtle cosplay.
Below, we have listed what you'll need to create your very own Ellen Griswold costume. 
To dress like Ellen Griswold, you will need Blond Wavy Wig, Choker Neck Blouse, Green Skirt, and Dress Pumps.
To achieve a better look, add Gold Blouse Brooch and Gold Bracelet to complete this Christmas-style costume.
---
Ellen Griswold Cosplay Costume
Because of her gentle nature and fun personality, Ellen Griswold is beloved by fans of the franchise. Ellen Griswold has a beautiful sense of style that is reminiscent of the time period of the film. 
To begin, you will need to find a Victorian-inspired blouse with lace on the front. She pairs that top with an emerald green midi skirt. 
Get one with a high waist that you can tuck the blouse into to create a flattering silhouette. On your feet, you should wear a simple pair of black heels. 
To bring the whole look together, you should pair it with some accessories like a brooch and bracelet.
One of the best ways to wear this costume is to wear it beside your partner, who is dressed as Clark Griswold. Then, you can attend Christmas or Halloween parties as a couple costume.
---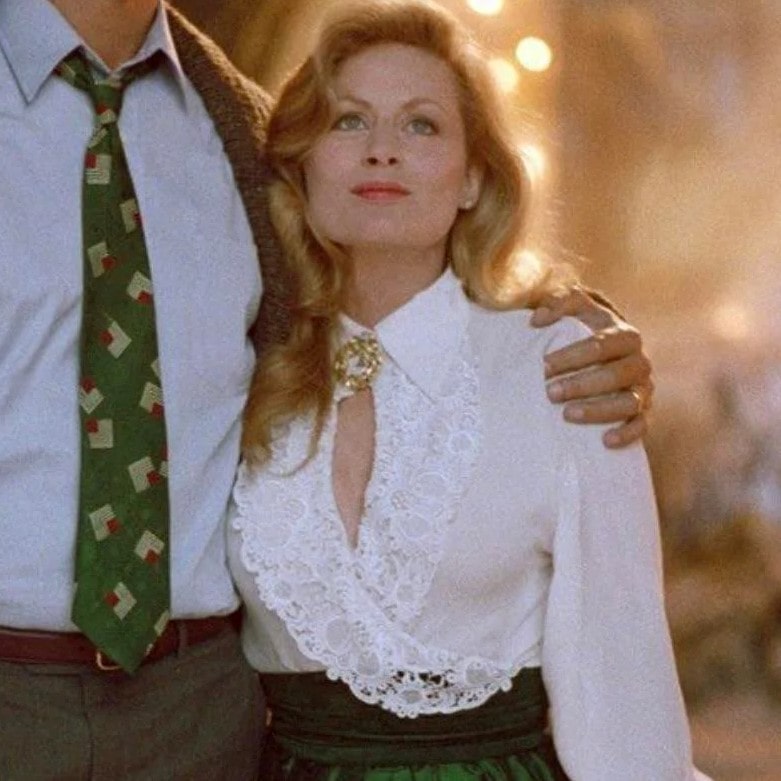 About Ellen Griswold from National Lampoon's Christmas Vacation
National Lampoon's Christmas Vacation is a Christmas movie produced in 1989. The film is exaggerated humor and full of warmth and romantic.
Ellen Griswold is a kind, loveable woman who is married to Clark. Clark is a little more spontaneous and temperamental than Ellen, so their personalities go well together. 
This is especially important when Clark gets too eager and enthusiastic about planning the perfect family Christmas. 
Ellen is a nice counterweight to his antics. She is always very supportive of him and whatever wild things he wants to do. 
---
Ellen Griswold Costume | Halloween Costume Ideas
---
What is the most famous quote from Ellen Griswold?

1. "Clark … Audrey's Frozen From The Waist Down"

2. "Oh, Aunt Bethany, you shouldn't have done that."

3. "You set standards that no family activity can live up to."

4. "Clark, this is a family trip. Can you try to stay with the family."

5. "Could be worse…you could be pregnant again."