Dolores is a supporting character in the Disney animated film Encanto. She is one of the most memorable characters, and part of that is her style.

Dolores Madrigal is a soft-spoken and quiet girl. She is a part of the Madrigal family, known to perform unique magic and miracles.

Dolores is blessed with the gift of hearing everything, including secrets that are whispered behind closed doors.

She quickly comes to realize that such secrets can be really hard to keep, making this blessing feel more like a curse. This is especially true when the secrets are ones that put her family in danger.
---
You'll Need:
DIY Dolores Encanto Costume Guide
A Delores Encanto costume is a colorful and bold way to show your love of your favorite Disney film. 
Though her outfit is bold, it is fairly easy to recreate. To begin your costume, you will need a Dolores Madrigal Dress with bright red and yellow color. 
Her footwear is every bit as vibrant as the rest of her attire, but the style is more subtle. Get Red Ballet Flat Shoes to complete the ensemble. 
As for accessories, you will need a Red Bow Headband. Bring the color up to your ears with Gold Cuff Earrings. 
Finally, you will want to drape a Heart Chocker Necklace around your neck. With all of these pieces put together, you will have your costume completed.
---
Dolores Encanto Cosplay Costume
Although she is a quiet girl, she dresses in a completely different way. Dressing in a Dolores Encanto costume is sure to get you noticed it. 
Dolores stands out quite considerably due to the colorful nature of her clothing. Her soft-spoken nature might leave her in the background if it were not for Dolores' vibrant manner of dress. 
From her yellow top to her red and orange flamenco skirt, she is easily noticeable wherever she appears.
If you want to stand out as much as Dolores, you can easily cosplay her. 
Don't cosplay Dolores alone. It would be better to form a group costume with the theme of Encanto at Halloween. 
Call your friends to dress like Mirabel, Isabela, Camilo, and Brunol to get more fun in this way.
---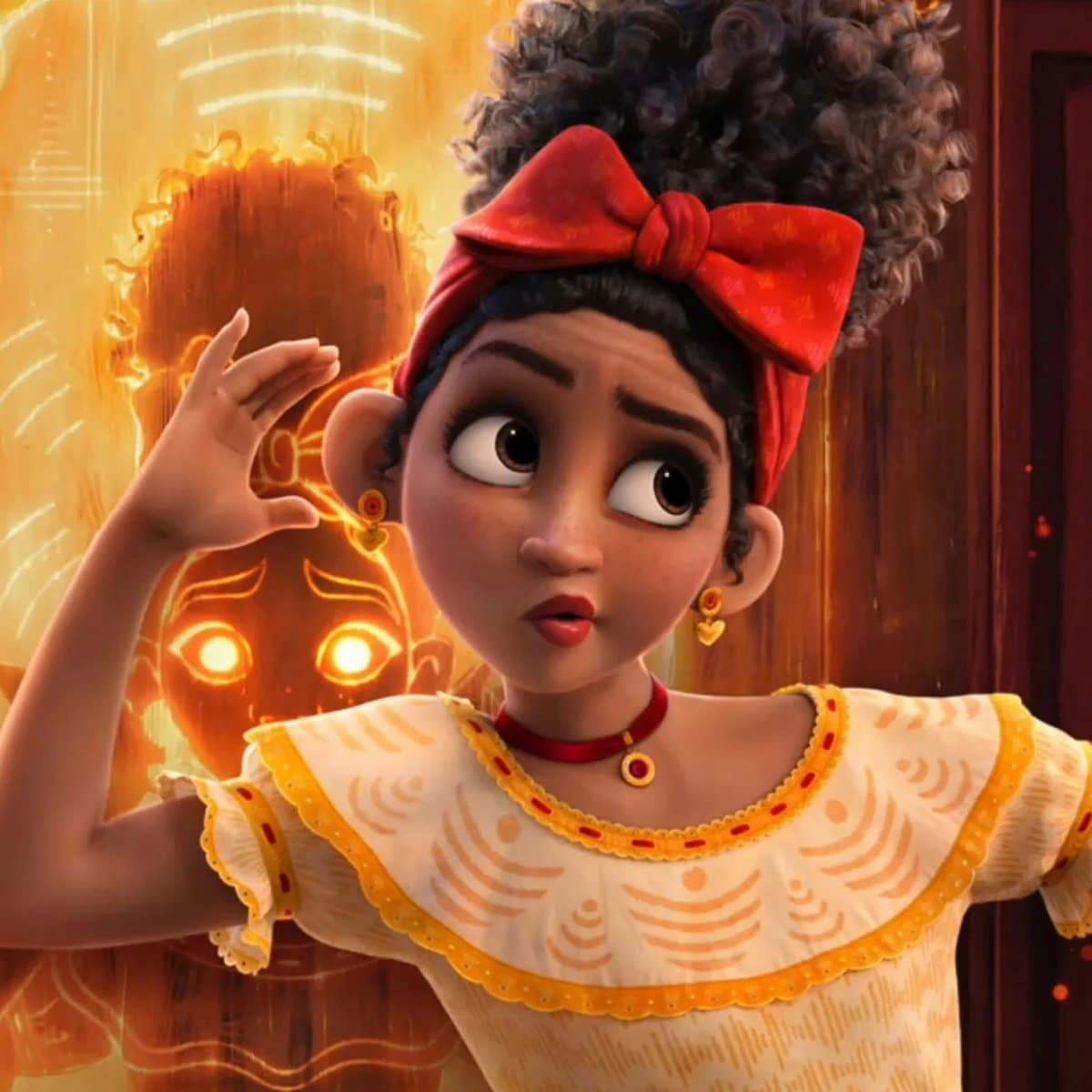 About Dolores Madrigal from Encanto
Dolores Madrigal is a supporting character in Encanto, a Disney animated film. This character is perhaps the quietest member of the family. 
Though she does not speak much, she can hear everything and anything. This includes secrets that others whisper, thinking no one will notice. 
Her abilities keep her in the know of what is going on all around her, but it can sometimes backfire. 
The knowledge that she gleans can feel difficult to keep a secret. This is something she struggles with the most when she learns something that puts her family in harm's way.
---
Dolores Madrigal Makeup Tutorial| Encanto | Halloween Costume Ideas
---
What is the most famous quote from Dolores Madrigal?

1. "The Only One Worried About The Magic Is You, And The Rats Talking In The Walls. Oh, And Luisa, I Heard Her Eye Was Twitching All Night."

2. "Tonight. He wants five kids."
We are sorry that this post was not useful for you!
Let us improve this post!
Tell us how we can improve this post?