Dress up with a head-turning Deadshot cosplay for your next costume party! Deadshot represents the other self of Floyd Lawton in the DC Universe. But every DC fan should recognize him as the deadliest marksman in the DC universe. After all, he is very well-known for his high accuracy when shooting down enemies.
---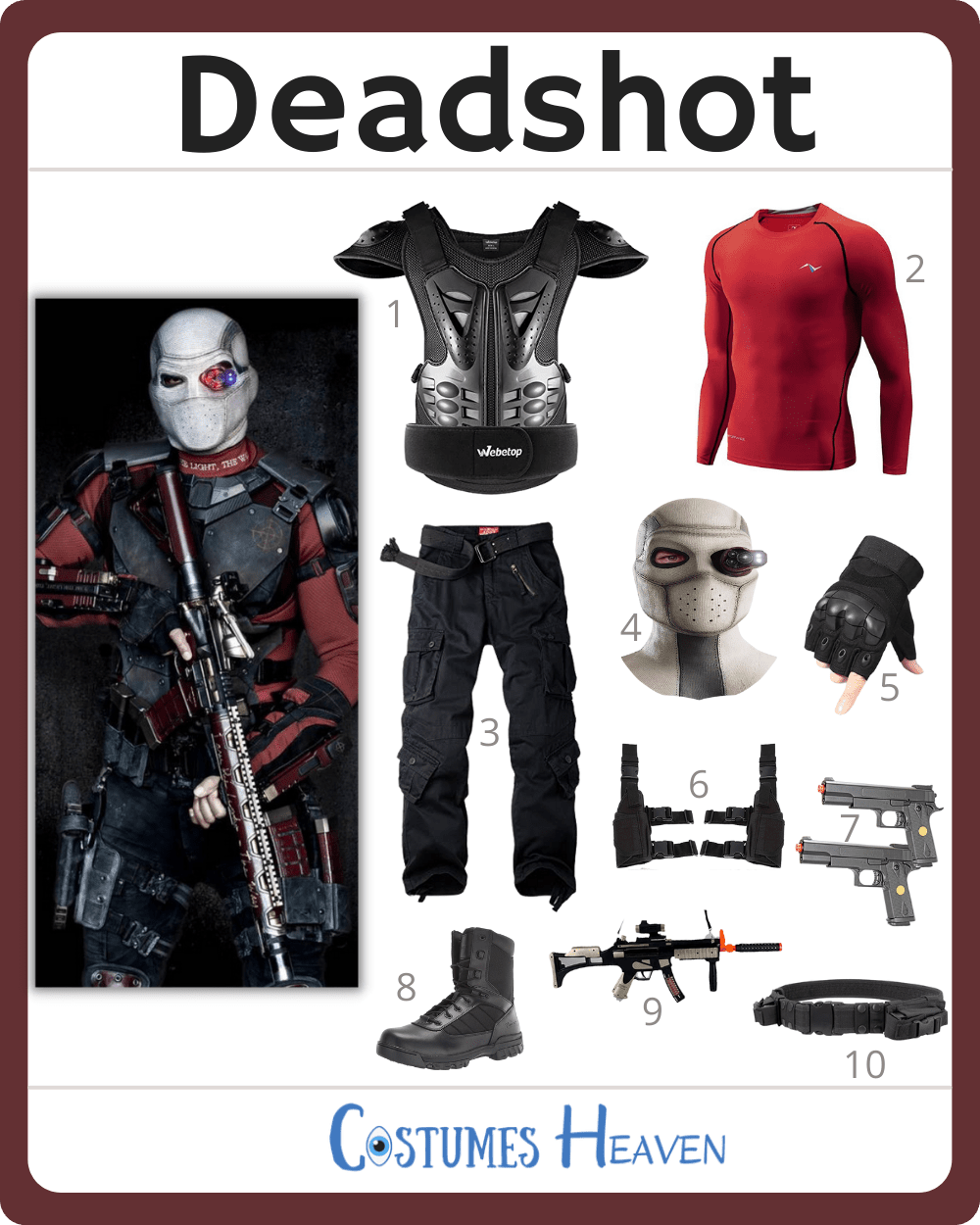 You'll Need:
DIY Deadshot Cosplay Guide
So, are you set on cosplaying the world's deadliest marksman? Here's what you need to complete your Deadshot cosplay look:
Get Deadshot's iconic look by sporting a Full-Head Mask. Find a compression long sleeve red shirt to wear underneath your armor vest. For the bottoms, get military camo combat pants and military boots for that menacing marksmen look. Finally, equip yourself with a tactical belt, leg thigh holsters, military gun toy, and airsoft gun props to complete the authentic marksman look.
---
Deadshot Cosplay Costume
Are you looking for a badass cosplay for an upcoming photoshoot, cosplay party, or convention? If that's the case, a Deadshot cosplay might be the most fitting option. Besides, Deadshot's outfit comes with a military feel and is clad with black armor.
Due to its included components, this look is best suited for dedicated cosplayers. Although its base starts with a regular long-sleeved red top, black pants, and black combat boots, things get complicated after that. After all, this outfit comes with heavy accessories such as knee pads, elbow armors, and gun holsters.
More importantly, if you're dressing up with your fellow cosplayer friends, you can get your whole gang to commit too! After all, Deadshot is part of the infamous Suicide Squad. With that said, your friends can choose to cosplay different Suicide Squad members! Make them cosplay as Harley Quinn, King Shark, El Diablo, Savant, and Black Spider, and complete the whole squad for your convention or photoshoot!
---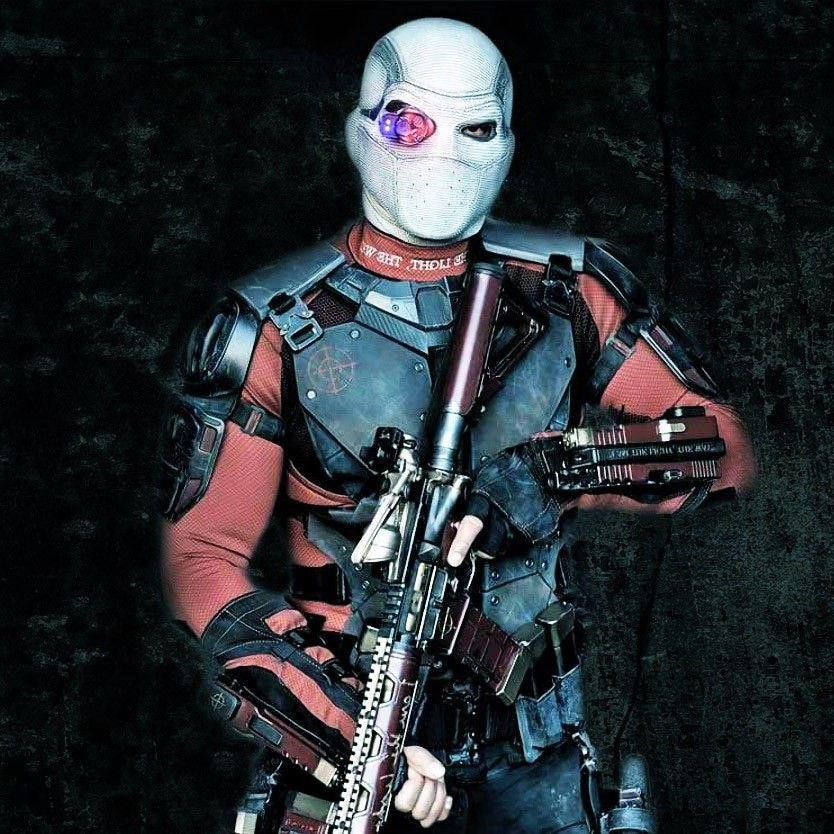 About Deadshot From Suicide Squad
Before being affiliated to the Suicide Squad and becoming Batman's nemesis in the DC Comics Universe, Deadshot was known as Floyd Lawton. He was born to rich parents who are also the most influential couple in their town. But despite coming from a rich and influential family, his life at home was miserable.
Even though Deadshot never received love or care from his mother, he continued to protect her. One day, Deadshot decided to halt the abuse that his mother received from his father by shooting him dead. Unfortunately, his plan wound up in tragedy, as he ended up killing his brother Eddie instead.
Due to that incident, Deadshot committed to ensuring that none of his shots would miss ever again. From donning a fancy top hat and tails, Deadshot completely turned away from this life of his. Now known as Deadshot, he wears his signature look and full-head white mask.
---
Deadshot Cosplay
---
What is the most famous quote from Deadshot?
1. " I will knock your ass out. I do not care that you're a girl."
2. "You don't kill as many people as I've killed and still sleep like a kitten if you feel shit like love."
3. "So that's it huh…we're the patsies…we're some kind of suicide squad."
4. "Y'all jokers must be crazy."
5. "Let's go save the world."