Be an overexcited fish killer with Darla Finding Nemo costume. There are many characters to love in Finding Nemo. From the lovably forgetful Dory to Nemo's father, Marlin, who stops at nothing to find his son, there is a whole cast of fishy characters to fall in love with. One of the most memorable characters of the film isn't a fish, though. Darla is a human being, a little girl that the fish fear due to her past of shaking fish to death.
---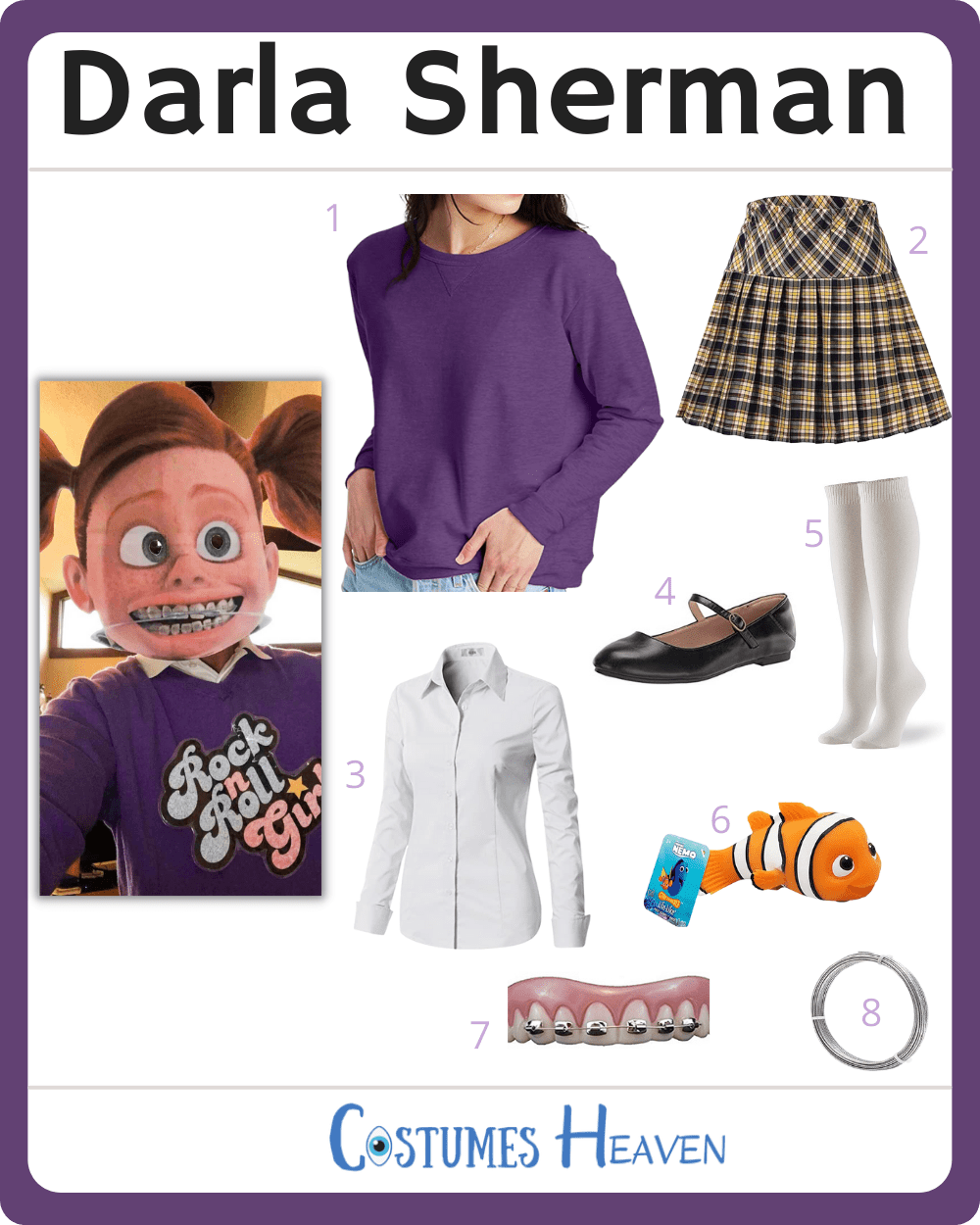 You'll Need:
DIY Darla Finding Nemo Costume Guide
Darla is the niece of Philip Sherman, the dentist in Sydney, Australia, whose fish tank Nemo ultimately ends up in. When she comes into the dentist's office, the new fish friend Nemo has found himself with shriek her name–"Darla!"–knowing that the nerdy-looking little girl is actually a lot more dangerous than she seems. 
To recrate the Darla Finding Nemo costume is easy. To start, you'll need a white button-down shirt that you will tuck beneath her purple sweater. Then, you will need a yellow plaid skirt with white knee socks and black Mary Janes. As for accessories, you can grab fake teeth and hanging wire. Finally, take the Nemo stretchy toy to further look like the character.
---
Darla Finding Nemo Cosplay Costume
Darla is one of the most memorable characters in Finding Nemo, and her appearance is one that is easy to pick out.
Darla is iconic with her purple sweater, braces, and pigtails, and recreating her outfit is easy. Darla wears a yellow plaid skirt with a set of white knee socks and black Mary Janes, so you will need them to complete the foundations of the costume. As for accessories, you'll want to get a fuchsia backpack to wear, as well as a dental bib. Having the clips and metal chain to connect them to the shirt will add some realism to the costume. Perhaps her most iconic feature is her braces. You can buy Billy Bob Braces Teeth to get that look. Once you have it all put together, you'll be rocking Darla's style in no time.
---
About Darla From Finding Nemo
The niece of P. Sherman who famously works at 42 Wallaby Way, Sydney, Darla is a menace in her own right. After P. Sherman captured Nemo thinking that he was struggling, he adds him to the fish tank in his office. The other cast of fish in the tank work together to get Nemo out alive–and that means surviving Darla. The fish devise a plan to get out of the fish tank and out into the sea, all while dodging Darla's chances to get her hands on Nemo first. Darla has a reputation for shaking fish in their bags and killing them, something the fish in the tank try to adamantly avoid. 
---
Finding Nemo Fish Killer 'Darla' Makeup Tutorial
---
What is the most famous quote from Darla?
1. "I'm a piranha! They live in the Amazon!"
2. [taps at the fish tank] "Twinkle twinkle little star!"
3. "WHY… ARE… YOU… SLEEPING?''