The vampire hunter Blade is one of the first superheroes effectively adapted by Marvel Studios for the big screen.

Many viewers enjoyed the Blade movie when it originally debuted, making it one of Marvel Studios' first commercial hits.

Many praised the film for accurately portraying the character's attitude and appearance, played by the actor Wesley Snipes.

Additionally, Blade's action sequences make up for the movie's uninteresting plot. Blade costume is still a popular choice for cosplay for this reason.
---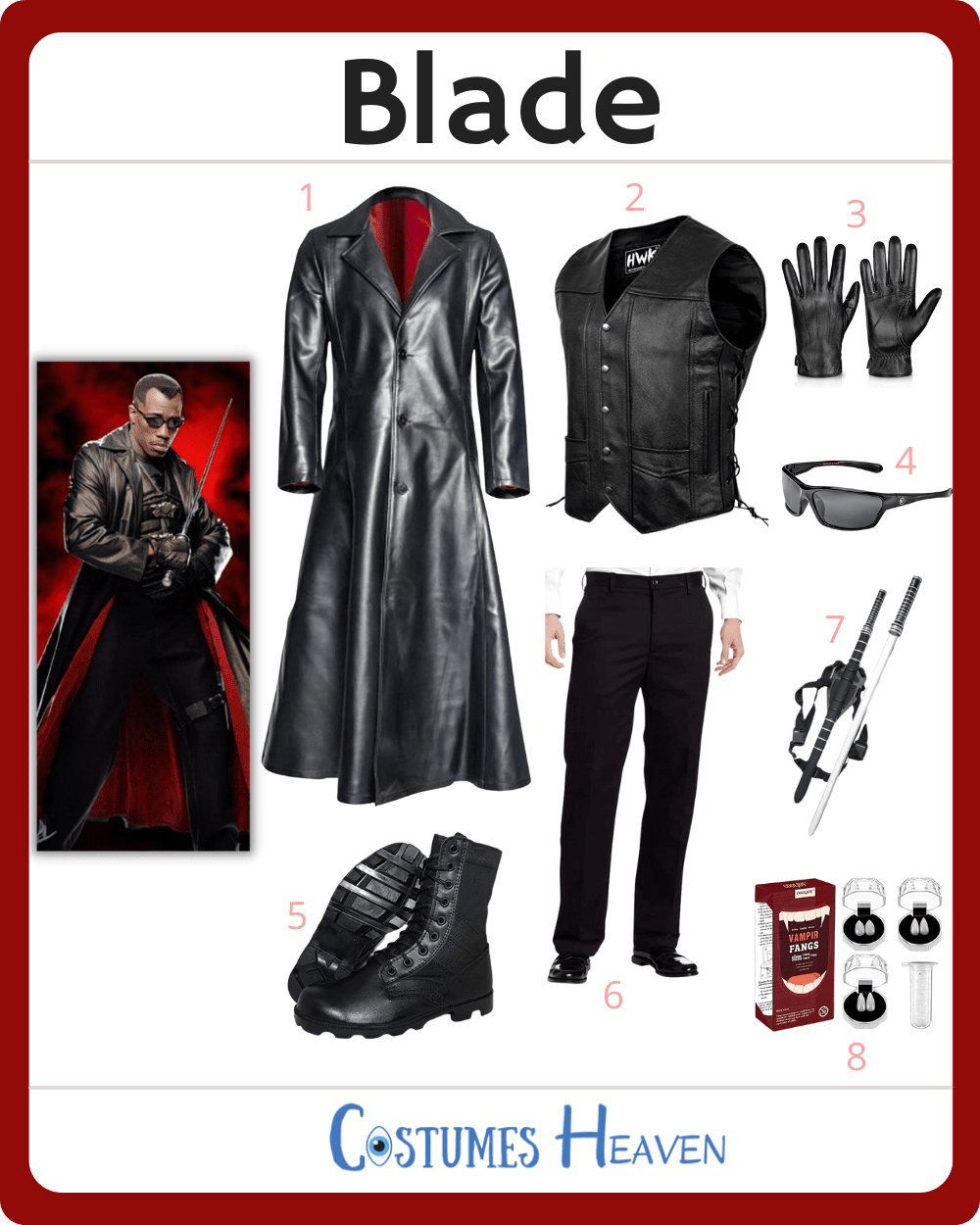 You'll Need:
DIY Blade Costume Guide
Blade fights against vampires as a "daywalker" in order to protect humans from vampires.
Let's start with the Blade costume guide, which will lead you past one of the Marvel Universe's superheroes. 
Along with a black full-length leather trench coat, you will need to pair it with a black armored vest, black pants, black boots, and black leather gloves. 
Then, you will need Blade's sword and a black sheath that can be fastened to the back. 
Finish off the look with black sports sunglasses and vampire fangs teeth with adhesive.
---
Blade Cosplay Costume
Marvel's Blade is a fantastic choice if you're looking for a vintage comic book character to cosplay at Halloween. 
By adding the Blade sword to the leather outfits, you have become one of Marvel's greatest superheroes.
Although he is a lonely character, it does not mean that your COSPLAY must be alone. 
On Halloween, you can call on your friends to dress up as other characters like Shen, Bloodpack, and Karen Jensen and go to the party with you.  
In this way, you form a group cosplay about the Blade theme, which is much more interesting than cosplaying Blade alone.
---
About Blade
Eric Brooks, or Blade as he is better known, is a talented assassin and warrior. 
Blade was born to a mother bitten by a vampire while pregnant, and he received traits from that vampire. 
Half-mortal, half-vampire-like Blade has superhuman strength and improved healing skills. 
Blade acquired incredible senses, speed, and stamina from the vampires. The hunter ages far more slowly than the typical person as well. 
His duty to defend people has his full attention. Master martial artist Blade was brought up to kill vampires. He seeks them down as a "daywalker" and kills them. 
Even speaking to people closest to him, he is almost emotionless. That does not imply that he cannot experience some form of love.
---
Blade Cosplay | Halloween Costume Ideas
---
What is the most famous quote from Blade?

1. "I promise you, you'll be dead by dawn."

2. "I have spent my whole life lookin' for that thing that killed my mother and made me what I am. And every time I take one of those monsters out, I get a little piece of that life back."

3. "You better wake up. The world you live in is just a sugar-coated topping! There is another world beneath it: the real world. And if you wanna survive it, you better learn to PULL THE TRIGGER!"

4. "There are worse things out tonight than vampires."

5. "You give Frost a message from me. You tell him it's open season on all suckheads."