What you will like about the Ash Williams costume is that you get to stand out right away with this cosplay. If there's an iconic character when it comes to pop culture, that's definitely Ash Williams. When he was in The Evil Dead, he quickly managed to become an icon and the franchise was a success despite the first film not having a whole lot of budget. The fact that the Ash Williams costume has a chainsaw that is strapped to your arm is quite interesting. Plus, it added a lot of character to Ash, grounding him and bringing in something unique and different.
---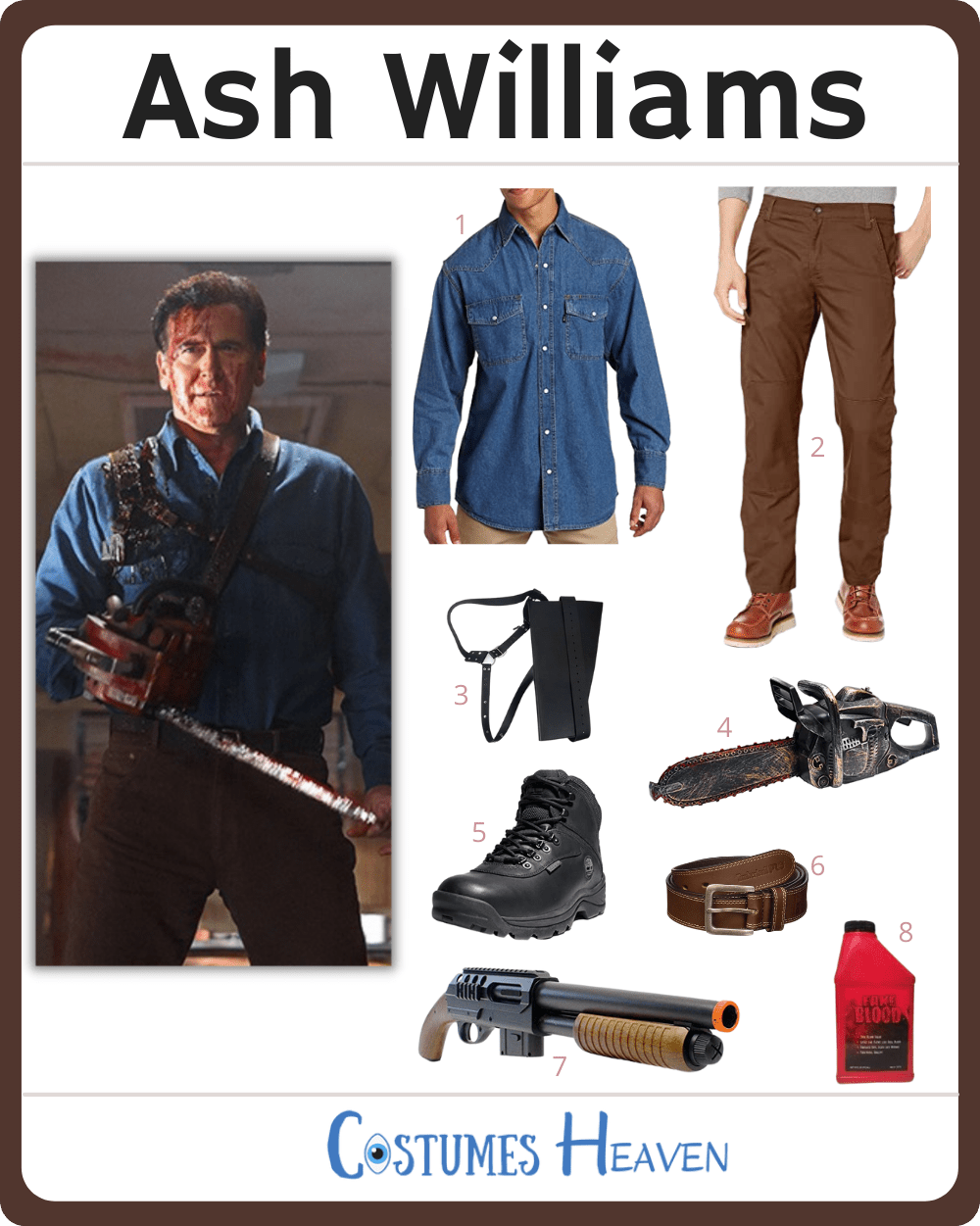 You'll Need:
DIY Ash Williams Costume Guide
Ash is a cult classic, he has a lot of swag and he always pushes the limits with his funny bits and creative moments. It does bring in the standard appeal while also creating quite a bit of lore for this story. That alone is the type of thing that pushes the limits with Ash Williams and makes him so unique and different.
Follow this Ash Williams costume guide to complete your own Ash's look with ease. Star with Long Sleeve Denim Shirt, Carpenter Jean with Ankle Boot. Next, equip yourself with Electric Motorized Chainsaw Prop, Airsoft Shotgun, Props Shotgun Shoulder Strap, and Leather Belt. Finally, use Fake Blood to make your look more realistic.
---
Ash Williams Cosplay Costume
As you can see, the Ash Williams costume sports a more utilitarian look, but it does convey a sense of value and quality while trying to bring in a unique perspective. Ash does have an iconic look, so recreating that is certainly incredibly innovative and engaging. You do need to give it a try for yourself, and you will be amazed at the results.
The thing to note here is that you are dealing with an Ash Williams costume that represents a low-budget horror. So unlike other cosplays, there is a bit of leeway with stuff like this. You can still be as creative as you want while trying out something different and engaging. With that being said, you will notice that you can adapt and improve on some of the character traits and styles. However, some items like the chainsaw are extremely important and they are a huge part of the character and the overall style that he represents as a whole. You can also tear off a sleeve and sprinkle fake blood on your body to achieve a realistic effect in battle.
---
About Ash Williams From The Evil Dead
Ash Williams is the main character in the horror movie series "Evil Dead". Ash isn't really the regular hero that you know. He is known to think only about himself and he does a lot of bad jokes. He always tries to see levity and fun in everything, and many times he doesn't really take himself or others seriously. 
Unfortunately, the Necronomicon is sealing his fate and he has to constantly deal with a lot of deadites. Most of the people in his life tend to die because of that, and in the end, it becomes a huge challenge just to stay alive. Yet Ash Williams perseveres, a standout thing for his character and arc as a whole! 
---
Best Ash Williams Moments (Evil Dead)
---
What is the most famous quote from Ash Williams?
1. "After all, I'm a man and you're a woman… at least last time I checked."
2. "Hey Granny, I hope you took your Geritol, 'Cause it's time to dance!"
3. "Good? Bad? I'm the guy with the gun."
4. "Hail to the King, baby."